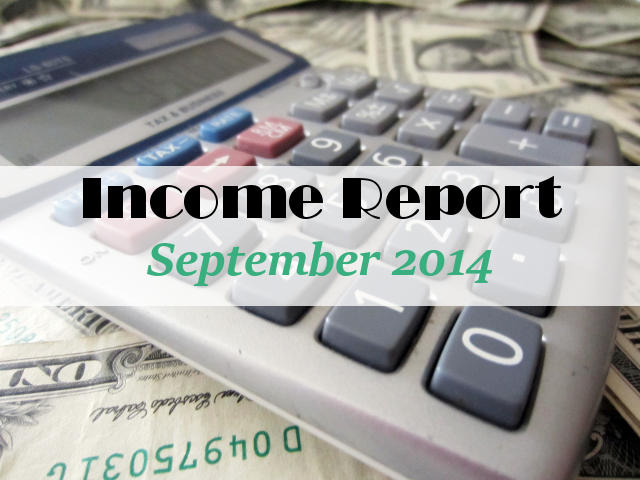 Well, I'm actually a bit embarrassed.  I was confident that the earnings of $11,597.72 that I achieved last month would be the peak and I'd see a dip this month.  But actually, there's another increase and another new record.  I guess that because I was confident of the dip, and the reduction in earnings from this one merchant, that I worked extra hard, introduced some new merchants, added extra advertising etc and things paid off to make September a new record.
However, I'm now confident that unless something dramatic happens that September will remain the highest month.  There were several things that all came together to make this a good one, including a couple of big product sales, the quarterly renewal of all of my sidebar adverts, and a bonus that came in the pattern sales dept.
Traffic
Another record month for traffic.  As many sites were complaining about a big drop in traffic from Pinterest as a result of their new algorythm and how they decide of which pins to show – mine did the opposite and my Pinterest traffic soared.  Clearly I'm in their good books and hope to stay there.
I'm also still in the good books with Google-Gods – fingers crossed this also continues but I check my stats nervously several times a day in case it stops as abruptly as it started.
Traffic  history (both sites):
May 2013 = 138, 752
June = 147,100
July = 149,000
August =141,990
September =140,933
October = 158,710
November = 164,092
December = 132,559
January 2014 = 165,222
February = 190,266
March = 203,989
April = 206,428
May = 234,667
June = 283,490
July = 300,431
August = 350,864
September 2014 = 427,622 – 3 times what it was last September and still growing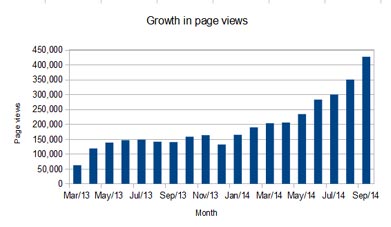 What was good in September?
Sewing pattern sales – a record month for pattern sales.  This is boosted by a one off payment from a new women's magazine in South Africa who wanted to reproduce some of my patterns and tutorials in their next 3 issues.  I received a one-off payment of $600 for this on top of the regular pattern sales.  The Give Me A Shrug top didn't sell as many copies as the Color Block Dress from the previous month, but I did get some extra sign ups to my Pattern of the Month Club.
Direct Advertising – my regular advertisers have all been with me for a long time now and my spots are always full.  I've switched to quarterly renewals and in September most of them come up for renewal in that month, which is why that figure fluctuates up and down a lot.
Advertising revenues – more changes to my sidebar advertising this month.  Blogher still gets the top two spots, I'm under a contract with them and although their charges have increased a lot, the revenue is still good.  I still retain one Adsense advert under certain high traffic posts, and 3 sidebar adverts have been turned over to another Ad agency to run.  Early signs are very promising – I'll report back on this once I have more data to go on.
Product sales – I sold several drop ship and affiliate products in the month that earn me a good rate of commission.  These don't happen every month, but I'm hoping that maybe in Nov/Dec I can get some sales in this area with Christmas coming up.
September Blog Earnings
Google Adsense – $571.15 (only 1 advert now)
Sverve – $to follow
Infolinks – $2.22
Blogher – $1,034.29
ShareASale – $7,052.84
Commission Junction – $41.09
Escalate Network ads – $57.14
E-book Sales – $16.54 – (declining, about time I wrote a new book!)
Moms Affiliate – $3.00  (new this month)
Sponsored Tweets – $to follow
Social Spark (now Izea) – $70.25
Amazon – $79.43
Direct advertising – $434.86
Blogvault – $12.00
Sewing pattern sales – $2,167.24
Other advertising networks – $13.23+$490.48
Other small 

affiliate

 sales and advertising income (incl paid blogging)  – $357.81
Website consultancy – $51.57

Total – $12,458.25
Expenses during the month were:
You can find previous month's figures under the My Income tab above.
Site RPM
There was one thing I wanted to look at.  Obviously my earnings have been growing and my traffic has been growing.  But have they both been growing at the same pace?  Has the extra traffic been profitable?  Am I managing to convert those visitors into buyers and income.  In order to decide, I took the earnings each month and divided it by the traffic, then multiplied by 1000 to get a RPM – revenue per mille, or per 1000 page views.
Here are the results: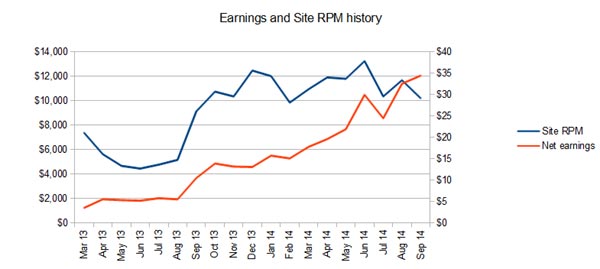 The answer, basically is no.  I've not been converting all the new traffic as efficiently as I was when there was lower traffic.  My current site RPM for Sept is $29.13 but it has been as high as $37.84 back in June when I had less traffic.  So the increase in visitors does contribute to extra revenue by way of page views, ad impressions etc, but they are converting to less sales per 1000 visits than the earlier readers.  Hopefully the traffic will convert to regular followers who will engage more with my offers over time.
Share A Sale
I get a lot of emails asking about which merchants to use on ShareASale.  Generally there are some which are good for me, some which are good for you and some which will good for someone else.  It depends on your site, your niche and your readers.  I've recently updated this older article with a few recent offers, so take a look here and apply to some of these to get you started.  I also did an article about BuyCostumes and Gazelle, which I've just added to my selection.
Which Merchants should I sign up with on ShareASale?
The coming month
I'm so excited – I'm going to a blogging conference in October flying to Charlotte, NC.  It will be my first time off the island in a long time and my first time ever at one of these sorts of events.  I'm hoping to pick up some more ideas for affiliate sales.
But, let's talk Ad Revenue – I can already see it's TERRIBLE in October so far.  Less than half the amount I had this time last month.  Blogher looks especially badly hit.  I know there is usually a dip this time of year as merchants get their Q4 budgets approved and in place, but wow, this is bad!  I'm hoping this new agency I'm trying out will be able to make up some of the deficit.