I remember looking at Sverve a little while ago, just after I had started my sewing blog, and at the time I didn't really get it.  Now I've had the opportunity to sit down and give it some time, I LOVE Sverve (short for social verve) and I think you are going to love it too.

It's like Pinterest for Bloggers where you can share your posts, tips and features and be followed and endorsed by other bloggers.  It is both a fabulous way to network with your fellow bloggers and see what is happening in your niche, and also get your blog to the attention of brands and PR reps.
It's also the best place I've found to apply for awesome blogging jobs and opportunities including the chance to write for very well known sites.
There is a very visual dashboard so you can browse through the recent posts of those Sverve blogging members you are following   Or you can search for content.  Find something you like and want to add to your board – just hit share and its shared with your followers too.  Your posts can be shared in the same way.
Add great tips, and have the benefit of being recognised for your expertise and endorsed by your peers – find great content by other bloggers and follow and endorse them too.
How can you earn with Sverve?
But you all want to know about how you can earn some money – right?  Well here is a summary of a few of the jobs or campaigns on the board right now.
*  Review Opportunity for Brooklyn's: NU Hotel. Earn $50.
*  Write a review of our website, $20 for a review
*  Write a review for a beautiful hotel deals site. Get $30 per review!
*  Fysiko Eyelash Serum Review. $30 plus free tester
*  A new online styling company is looking for sponsored blogpost. Earn $20 per post.
*  Review Zemanta's new related content plugin. Receive $25 for feedback!
*  Guest writing opportunities- many and varied including regular writing jobs as well as one off posts.
*  Check the campaigns board often for updates and new jobs
How it works
*  Hop on over to Sverve and sign up.
*  Simply add up to 5 areas of influence on your profile
*  Share quality information on the sverve platform like your latest blog posts and best tips.  There's a Sverve bookmarklet to add to your browser so you can share content quickly and easily.
*  Follow other influential bloggers and be followed
*  I'd be delighted to receive your endorsement on my profile – I'll follow you back
*  Apply for the campaigns and jobs
*  Your Influence Score will be generated based on real Endorsements that you get and the type of content you create. As more people like, favorite and share your tips, your score will increase. You will have a score for each area of influence as well as an overall score.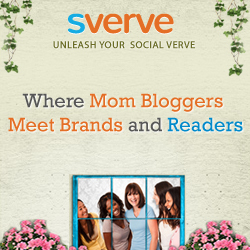 I was approved quickly for the first 3 campaigns I applied for. Two of which are cash payments and one is a $175  freebie plus an affiliate link opportunity.  If you are looking for something a little different from the usual blogging opportunities – then I really believe Sverve could be the place to look.
Authored by: Deby at Moms Make Money