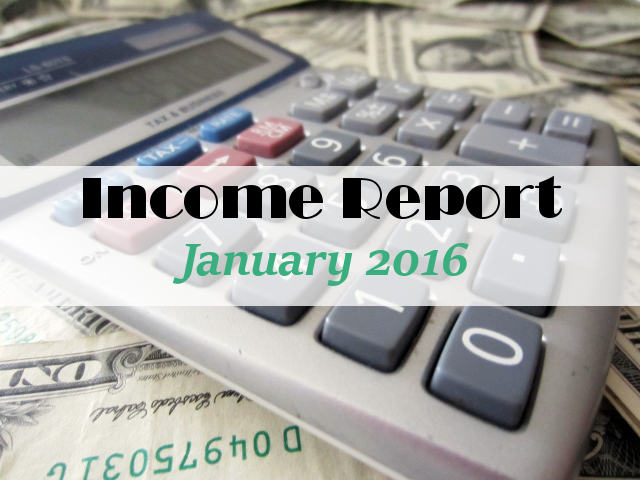 Welcome to our January 2016 Income Report.  It has been a busy year so far and we are happy to report that we have already reached our revenue goal that we set for 2016 of $2000/month.  Whether we can maintain that sales level going forward is yet to be seen but we have a number of projects on the go to hopefully keep increasing sales and start working towards our 2017 goal of $4000/month.
As many of you know, we took over this site from Deby in December of last year and have had plans to add a lot more content, which unfortunately hasn't happened near as well as we had planned.  But our primary goal is to make money online (and share that information with you) and when opportunities crop up to make more money – which happened in January, this site tends to get neglected a little bit.  I promise you we will work harder on that front!
I know I told you on our 2015 income roundup that we would likely be breaking down our sales by site going forward.  That is not going to happen this month as we haven't really setup our tracking well enough yet to break down income to that level.  Hopefully we can do that by next month but no promises.  I can tell you that 66% of our income in January was produced from one niche site, with the remainder primarily coming from two other sites.  This site – moms-make-money.com made around $10 in January.
Traffic
If you read our January mid-month report, you'll know that our main niche site got an unexpected boost on Google search.  This has since settled back down although traffic is slightly higher than it was prior to the boost.  We also had a link posted about us on Reddit that gave us a huge boost in traffic for about two days.  It didn't increase our sales at all though but it is still nice to get noticed so we'll happily take the attention.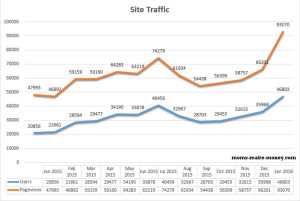 That is a pretty massive increase in traffic!  I doubt very much if we'll see those same numbers in February.  But I'm confident we'll get back to these numbers and higher eventually.  Especially when we start paying more attention and love to this site.
Sales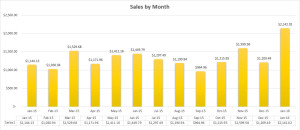 What a great start to the year!  Just like 2015, we hit our goal by the first month of the year.  Makes me wonder if we should be setting our goals higher?  Probably not.  Since our goal for 2017 is $4000 per month, that is going to be a lot harder to hit.  I'm hoping we can get at least partway to that goal this year.
I'm not very confident that we will hit the $2000 mark again in February.  It's a shorter month for one thing  plus we made some oddball commissions in January on one of our niche sites to the tune of almost $200 that never happened before and isn't likely to happen again anytime soon.  Sales like that are nice when they happen but you just can't count on them.
RPM
As a reminder – RPM stands for Revenue Per Mille, meaning revenue per 1000 pageviews.  It's one of the metrics used to gauge how well sites are doing.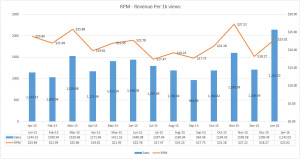 We have a confession to make.  When we did up the Revenue Report for 2015, Darren left out the traffic for one of our niche sites that gets a decent amount of traffic but almost no revenue.  His argument for leaving it out was that it made our stats look bad.  But I argued since it was our site and it does get traffic, it's our problem to either get the site to make some money or get rid of it.  Either way, our reports should include it.  I won the argument so the figures have been changed now to include that traffic 🙂
I'm not sure if we will continue including this chart in income reports to come.  I don't think it really adds any value to the article and doesn't really help us track our progress
Income Breakdown
We've broken down where our revenue comes from as best we can.
| | |
| --- | --- |
| Adsense | $30.69 |
| Amazon | $0.45 |
| CJ | $164.10 |
| Shareasale | $2.00 |
| Private label webhost/vpn affiliate: | $625.23 |
| Private label affiliate (other): | $1319.55 |
Although we've had a Google Adsense account for quite a while now, this is the first month we really started using it.  It is not a huge amount but overall we're pretty pleased with the results.  A good chunk of that money comes from the site I mentioned above that was making no revenue but had traffic.  It was about time to make at least a little off of it.  We tried Infolinks in the past and I guess it wasn't a great fit with their ads as we rarely made more than $5-$7 per month and we finally ended it as the little amount of money wasn't worth the annoyance to our visitors.  Even though they don't spend any money with us!
One of the above companies will be changing quite a bit for the month of February, as we have now switched one of our niche sites over to a merchant that is on the Shareasale network.  We are both really happy about that since a) We make higher commissions and b) We both trust Shareasale and their merchants.
Summary
While it was great to meet our goal so early in the year, we still have a lot of work to do to continue to meet our goals and work towards our next goal.  Working on this site, building our social media presence and building out new niche sites are some of our main goals coming up in the short term.
If you made it this far, thank you so much for reading.