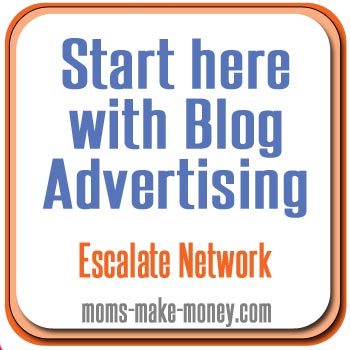 If you are new to earning money from your blog and aren't sure where to start or how it works, then for your first network I recommend starting out with something nice and easy to work with and one especially designed for bloggers.
The first agency I've chosen is Escalate Network, and in the video below I explain why I think this is a good place to start and why it has something suitable for all websites and bloggers.  It also has a variety of offers including Pay per Click, Pay per Conversion, and Pay per Sale (all explained in the video).
Take a look at the easy sign up process and how to set up and place your first advert.
Note – click the little box bottom right on the video to bring it up full screen, and use the 'gear' icon to change the resolution to make the video more clear.
Sign up for the Escalate Network at
www.Moms-Make-Money.com/Escalate
Why choose Escalate?  Some Frequently asked Questions…
What is the minimum payout and how quickly will I be paid?
We pay our affiliates when they reach $25.   Escalate pay NET 15. This means within 15 days after the end of every month, we pay every affiliate who has earned more than $25 since their last payment. So on 15th August you will receive your earnings from July.  We offer payment via Check or PayPal.
Do I have to put banners all over my site to earn money?
No, you don't have to put banners all over your site, in fact, our offers work much better as individual blog posts. All of our offers can be posted as blog posts. Some require a banner to be included with the blog post, but we prefer to work with advertisers who understand you have a unique voice so you can customize your blog post with your own images, text, and personal style.
How do I earn money from Escalate Network?
We are a performance based affiliate network. Most of the advertisers/offers we have in our network pay a certain amount each time some sort of action occurs. This means you typically earn money when someone prints a coupon, signs up for a service/newsletter, fills out a survey, purchases a product, or performs some other sort of action. We call these "conversions". There are some offers in our network that pay per click, but most pay per conversion.
What sorts of offers/advertisers does the Escalate Network have?
We focus primarily on deal and coupon related offers. This includes coupons, freebies, samples, daily deal sites, as well as popular cash back and reward programs. Instead of hundreds of offers, we focus on around 50 top performing offers from legitimate companies. We avoid spammy/scammy offers and shady redirects that will confuse and frustrate your visitors.
Tracking your success with Escalate.
Now that you have chosen and placed your first adverts, you need to track which of them are successful and earn you money – and which are a waste of your precious space.  Some of this will be related to their placement on your site – higher up adverts will typically get more views than adverts towards the bottom of your pages.  But the degree of reader interaction and the payout for it will also affect your earnings.
So let's take a look at how we can track impressions, clicks and income from our adverts with Escalate.
Coupons
Another great money-earning feature of Escalate Network is the ability to offer printable coupons to your readers – and get paid when they print them!  These can be incorporated into your posts as part of your content, or as a widget in your sidebars. Earn 42c if someone prints the coupon!  Great for recipe posts, or any time you can incorporate a product into your writing.  For example – feature a recipe for cupcakes and give your readers a coupon for a $1 off frosting.
Did you know that in a recent survey – 62% of households said they had used a coupon to save money in the last month!
Summary
I highly recommend Escalate as a nice and easy place to start with blog advertising.  It was my first network, and the customer service is excellent so if you run into any difficulties your personal account manager will help you out.  They do however usually require that your blog is 6 months old before they will accept you, unless you have already got a very active blog with a lot of posts and activity.  If this isn't yet you – put a note in your diary and apply to Escalate in the future.  They have great service, great payment terms and a lot of relevant offers for Mom bloggers.
Sign up for the Escalate Network at
www.Moms-Make-Money.com/Escalate