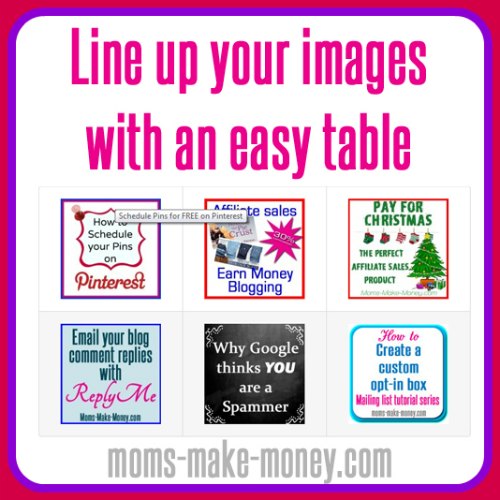 If you've ever tried to line up images in your posts on any of the blogging platforms you just might have found out that this is a sure way to drive yourself crazy!  Why won't they stop where you want them to?  Why are they all different sizes, and end up in zig-zags and randomness instead of nice neat straight rows.  Arrggh.
Frustration over – its easy when you know how.  You need to put them in an easy html table.  And you can write one in html with just 3 simple commands – start and end table, start and end table row and table data.  Let me show you how and we'll look at making a nice neat Linky Party page or clickable project page to showcase your best posts.
Here are the html commands that you need to make the table.
<table> – start of table

<tr> – start of new table row

<td></td> – table data holders

</tr> – end of table row

</table> – end of table
These posts are lined up here using an easy html table with two rows.  All are clickable links that will take you to other pages.  You could also use this method to create a linky party page, a clickable projects gallery, a popular posts sidebar widget or simply a photo gallery of your work.
Thank you to Kimi for submitting this readers question and prompting me to show you how to make an easy html table.  If you have any burning questions that might be suitable for a feature on the site, do leave a comment and I'll do my best to write a post, tutorial or make a video to help out – all assuming I know how to do it of course!
And why not post a link below to your new link party page, or project page so we can all admire the new table you made and how you lined up your images beautifully.
Authored by: Deby at Moms Make Money