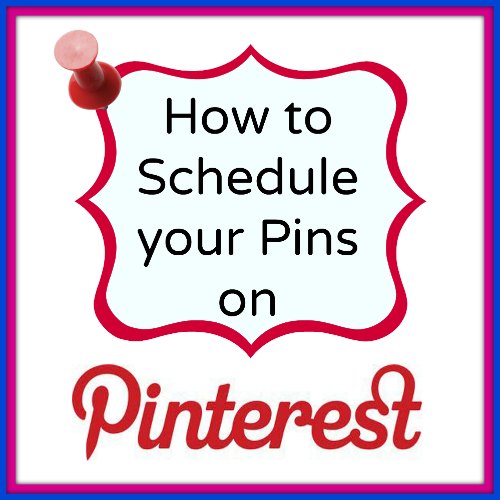 Learn how to schedule pins for free!  There are times when you might want to pin a picture or post to several of your boards on Pinterest.  Got a great recipe for Chilli and want to pin it to your recipes, family favorites, Mexican Food and your favorite group boards?  Why not, BUT who wants to spam Pinterest by pinning the same thing 3 or 4 times all at once so you look like you are trying to take over the Pinterest feed of your followers.  There has got to be a better way!
If you could spread out your pins, schedule them so that they were going to post to your boards over the course of the next two days there are a LOT of benefits.
You won't look like a Pinterest spammer and turn off your followers or even loose them
you'll get your pins on the boards you want to feature them on, maybe even a group board or two for wider reach
you are more likely to get your content in front of more followers by spreading the timing.
This really is the one major feature missing from Pinterest and it looks like there isn't any immediate plan to introduce it.
There are several paid options out there for scheduling pins, but there is also one notable exception – Pinwoot – which is free and allows up to 60 pins a month to be scheduled.  We looked at Pinwoot a little while back because its also a great place to get new Pinterest followers, and more likes and repins.
Since joining, I have concentrated on generating more traffic from Pinterest by giving more seeds for pins and likes and less for new followers.  I've certainly noticed an increase in traffic from Pinterest and an increase in followers from those repins and likes which get my content in front of a wider audience.  Here are my recent Pinwoot stats:
New followers (not my priority) – 66
Repins – 427
Likes – 401
How to schedule pins for FREE on Pinterest
Take a quick look at this video tutorial and I'll show you how you can easily schedule pins for dates and times in the future.
It costs just 3 of your seeds to schedule a pin, and you can earn seeds for free by following other users, pinning and liking their pins. Or if you are a serious pinner, and want to really give your traffic a boost they have some affordable options to buy a whole load of extra seeds so you can go scheduling crazy.  But this really isn't necessary – the free option works just fine!
So give your traffic a boost by sharing your content over more boards and scheduling your pins to reach a wider audience.