Welcome dear readers and Happy New Years!
I know it's been a long, long time since we have written an article but that doesn't mean we have retired from our online business. Just the opposite – in the last few months we have been working harder than ever before.
But this article isn't going to be about what we've been doing lately, but more about what we have learnt in the past few years and how the online landscape has changed.
Google Giveth and Google….
I know, we have talked about this before but the state of organic search has changed A LOT in the past few years.
It used to feel like getting rankings on Google was a bit more of a level playing field – if you kept updating your site with relevant, useful content for your viewers, you would get rewarded with decent search rankings because – well…. that's what a search engine should be doing
Featured Snippets
We've all seen these. More often than not, doing a search in Google will present you with a big box at the top with 'relevant' info for your search query.
Just for fun I typed in 'make money online' and got this snippet: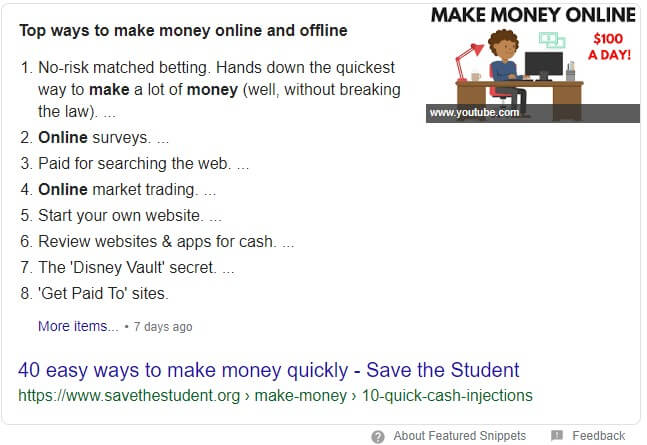 That is a lot of screen real estate taken up for just one site. It's great if you own that site, but for other sites in the search results – kinda sucks to be you.
People Also Ask
Along with the feature snippets, Google has implemented the 'People also ask' feature in many search results. Here is the one for the same search query:

Now I know what you're probably thinking – they're not telling me something I didn't already know.
Sure, fair enough, pretty much everyone knows that these 'features' are in Google now but have you thought about how much this affects traffic to your sites?  
For this sample search query, the only actual web link visible above the fold is one for entrepreneur.com – a site with massive reach that would be virtually impossible to outrank.
So in this sample, unless you can get the coveted featured snippet or get listed in one of the 'people also ask' links, your chances of getting a click from this search have gone down immensely from just a few years ago.
So what to do?
This article isn't the time or place to get down and dirty about what steps to take to increase your organic search traffic but I'll leave you with just a little teaser for a future article:
Long-tail keywords.
If you are new to the term, it means a keyword search that is made up of multiple words, generally three or more. A huge amount of traffic is generated from long-tail keyword searches as the results tend to be more useful.
Here is an example.  Recently I was looking for info on what kind of taxes I'd pay for selling a business.  I knew it was considered a capital gain but instead of searching on 'capital gains tax' I searched on 'capital gains on selling a business'
Obviously I'm going to get more relevant search results with my keywords since I was pretty clear on what I wanted.
Working on getting more relevant long-tail keywords ranking for your sites is a key to long-term organic search traffic.
The bad news?
The search volumes tend to be a _lot_ lower.  For instance, 'Capital gains tax' has a search volume of around 147,000 searches per month globally.  My long-tail search: 'capital gains on selling a business' gets a whopping estimated 140 searches/month.
Ok, that's just about enough about the state of organic search for now.  Hopefully it hasn't been too depressing but it is a reality you need to be aware of that organic search has evolved a lot in the past few years, and generally not for the better for many smaller sites.
Flipping Websites
If you've ever seen TV shows like Flip or Flop or Flipping Vegas, you will understand the concept.  It's about buying a fixer upper, fixing it up and selling it for a profit.
This concept has become more and more common in the website business in the past few years and something that we are starting to do for a few reasons that we will get into later in the article.
While some people just create sites from scratch, build it up to get a bit of traffic and then hopefully sell it for a profit, that's not what we are into.  Instead, we are beginning to let go of sites that we:
Have little interest in the topic/niche of the site.  This makes it hard to write good content for the site and to get motivated to work on it.
Feel we have taken as far as we can and that a new owner could help it grow further to it's potential.
Sites that are too difficult for us to rank enough to generate what we consider a decent income.  Sometimes others have more experience in the niche or more patience to wait for growth.
There is plenty of other reasons we take into consideration when selling, but those are the main ones.
For quite a number of years, I was strongly against selling any of our income generating sites.  My thoughts were that why would I give up a steady income for a one-time lump of money.
That was until one of our sites went from generating around $6000/month down to about $1500/month almost overnight.  Thanks Google.  If we had sold that site when it was at it's peak, we would have easily garnered a sale price of $150,000.
Losing that revenue was an eye opener for sure and I can't say we are rich enough where losing almost $5000/month overnight didn't hurt a little.  But we have other incomes outside of our web business as well as other sites that generate income so I prefer to think of it now as a valuable learning experience.
And from this learning experience is where we finally decided to let go of sites that met one or more of the criteria we listed above.
To date, we have sold three sites out of our portfolio of 11 income generating sites, leaving us 8 sites that generate at least some income.  I am considering selling 2-3 more in the next year and am currently forbidden from buying new sites 🙂
Another point that has made it an easier decision to sell some of our portfolio is current multiples sites are getting.  Websites generally sell for a 'multiple' of average monthly income.  When we started out in this business, multiples would generally be 12-25. So a website making $500/month would sell for $6000 to $12,500.
In the past few years, a ton of people have jumped into the market, thinking it was an easy way to make a few bucks. Lol.  Because supply/demand changed so quickly, multiples have jumped to 30 as a minimum with 35 being normal now.  So that same site would now cost you up to around $17,500.
Not so great for buyers but an awesome time to be a seller.
Where to buy/sell websites
There are a number of online brokers that help people buy and sell website properties, but a few of the more well known ones are:
Probably the largest online website broker site in existence. The good part of the site is that there is lots of sites and domains to browse through. The bad part is that Flippa does not vet any of the listings and there is a lot of crap listings on the site.  I'd guess that at least 50% (and that's being conservative) of the sites are pure garbage.
If you don't know what you're looking for or what questions to ask, this is not a good place to buy a website.  On the other hand, it is a quick and relatively inexpensive place to sell a site.  Since the sites that we have sold so far have been relatively small earners, Flippa was really our only choice.
Our experiences so far on Flippa – both buying and selling – have been positive.  In all three sales we have made, we got more for the sites than we had expected.
If you are looking to buy/sell a higher end website, Empire Flippers may be the place to go.  All sites are thoroughly vetted so your chances of getting a poor performing site are much less.  You should of course do your own due diligence.
If selling on Empire Flippers, they are quite strict about what sites they will take on.  Minimum income levels are of course important.  But they will also look at things like backlink profiles, meaning if the site has questionable backlinks, there is a good chance they won't accept the listing.
Too many sites
I have a problem. I admit it now.  I like buying websites.  I'd see a listing for a website that I liked, see some potential in it to make some profit and I'd buy it.  Pretty soon, we were swamped with more sites than we knew what to do with.
And since I've been able to admit to my addiction, the flipping of websites finally began.  And it actually hasn't hurt as much as I expected.  The reality is, there are only so many hours in the day and since we still haven't taken the plunge and hired a VA (virtual assistant), there are only so many sites that can be worked on.  This site is a good example.  It's been ignored for an awfully long time….
Learn from my experience.  If you have too many sites, some of them will inevitably lose traffic/income because of lack of updates.  Only own as many sites as you can reasonably work on AND only own sites that you are interested in the topic.
Diversification
And the one final lesson we have learnt in the past few years is diversification.  It doesn't matter how popular a website is or how much income it is generating, there is always a chance that it will lose a chunk of its' traffic and income.
As our example above showed, we lost 75% of our income on one of our sites literally overnight.  What if that were our only site or we relied on that income to survive?  Scary….
If there is one thing to learn in the website business is that nothing stays the same.  Websites aren't like your favorite shoe store on the corner that's been there for 50 years.  Sites come and go, no matter how big or small they are.  If you rely on organic search for traffic to your site, remember that Google releases on average at least four core updates per year.  Any one of those updates could affect your traffic – for good or for bad.
If you want to maintain an online income with your websites, having multiple sites, ideally in different niches is an absolute necessity.  Otherwise, you could wake up to a Google update to find your income wiped out.  Trust me, I know.
Conclusion
I hope you have learnt something from my ramblings.  I will do my darndest to post on here a lot more often in the future.  I don't know if we will resume with our income reports like we used to do as they take a ton of work to compile but if there are other things that we have learnt that come to mind that I think will be of use to our readers, I'll try to do an article on it.
In the meantime, feel free to leave a comment on what you'd like to read about.  If it's something I think we can help others with, I'd love to help out.