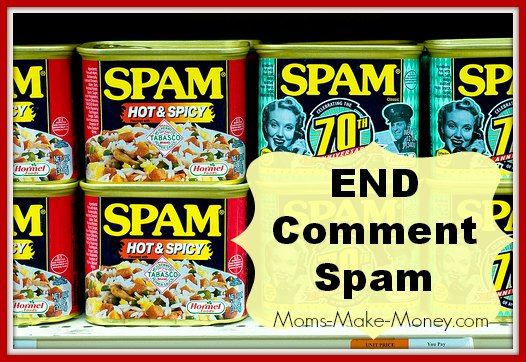 How WP-Ban plugin can put an end to excessive blog spam comments for good!
OOoh, it's been driving me CRAZY!  Canada Goose, Canada Goose, Louis Vuitton, Ugg boots, spam, spam, spam.  I had it all under control with Ak'ismet until recently.  Akismet in WordPress Jet Pack at least stops all this spam from publishing to my site and holds in a separate folder for me to moderate.  For months its been fine, but then about 4 weeks ago I started getting spam comments about a site that sells fake Canada Goose products.
The funny thing is, they are targeting this one post with their spammy comments – Why Google thinks your blog comment is spam.
It started small, but then increased to sometimes up to 500 spam comments from them a day!  Because  isn't always 100% accurate I had to go through all of those comments to check for any valid comments before deleting them and it was starting to cost me time and my sanity every day.
I even wrote to the site being advertised and told them what I thought of their spamming policy and asked them to stop.  Another waste of my time, but I didn't know what else to do.  I know that I can ban IP Addresses using my htaccess file on my server, but well, I did that once before with near disastrous results.  Instead of typing deny, I typed deby, copied across the deny list to my other site and managed to instantly take down both of my sites with my stupid mistake and only find out about it hours later when I had no idea what I had done wrong!  So I was reluctant to go making any manual changes to the files on the server.
That's when I found WP-Ban plugin.  It's changed my life – well, it's changed my day anyway because I no longer have to troll through hundreds of spam Canada Goose comments to check for real comments before deleting all that spam.  Now I simply add the IP address of the spammer to my Ban list and they can't get to me anymore. Sorted.
Let me show you briefly how WP-Ban plugin works.
1 – download and add WP-Ban plugin, and activate it.
2 – In the left hand menu under settings, click Ban to get the settings and options page for the plugin.
3 – Open your spam comment folder in a new window so you can have both open at once.
4 – Find the spammer you want to ban and copy the IP address from their comment.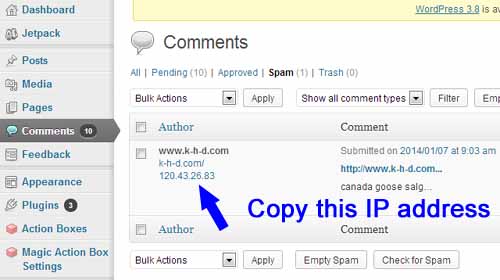 5 – Go to the Ban settings page and paste the IP address into the Banned IPs box at the top.  You need to put each IP address on a new line.
6 – Save.  You can also add in IP address ranges and other options, but for the purposes of getting rid of the comment spammer, this simple option should work.
You should be aware that comment spammers use a range of IP addresses and aliases and with the Canada Goose spam it took me several days to deal with all the IP addresses that kept popping up.
You also have the option to leave a message explaining why a person has been banned and I think this is a good idea just in case an error happens and a genuine reader is banned by mistake.  Here is my 'you are banned'  message.
"You Are Banned from accessing this site. It is probably for one of two reasons. Either you keep annoying me with your spammy comments, or perhaps my log files show you have repeatedly been clicking away at my Adverts in an attempt to get my account disabled. Either way, this behaviour isn't welcome. If you think your IP address has been banned in error (and let's face it, we all make mistakes and sometimes IP addresses are shared) please email me at [email protected]."
Enjoy all the extra time you'll have every day now you don't have to deal with all that Canada Goose spam, and others.
Authored by: Deby at Moms Make Money
photo credit: Susan NYC via photopin cc