Do you remember the post on BzzAgent that Heather wrote for Moms Make Money a while back?  Originally this post had been scheduled for earlier, but it began a Google Run Around that took a while to sort out.  Heather's post was entered into my site and scheduled to post early one morning at 6am.  However when I awoke and checked the site at 6:30am, I found access to Moms Make Money had been restricted by Google.  All I saw with the dreaded red screen – DANGER MALWARE AHEAD, and the message that access to Moms Make Money had been restricted due to content from Heather's site, which was linked to a site known for distributing Malware – like viruses, spyware and other internet baddies.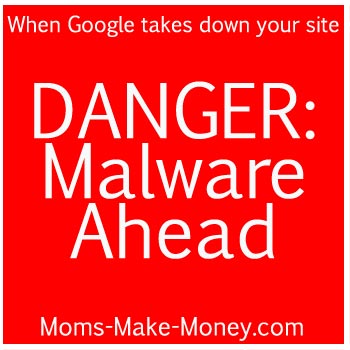 Luckily for me, my solution was easy.  I had to remove Heather's guest post and Moms Make Money came back up and all was well.  But for Heather it began a much longer and stressful path.  Once everything was well, I asked her to join us again and let us know about her experiences.  Heather explains….
 * * * * *
5 Things I Learned When My Blog Went Down
It all started over a month ago, I can remember it like it was yesterday. I was sitting on my porch when I logged on to my blog after a long Friday. I had the girls in bed and was ready to get to work and be productive, all with a delicious glass of wine in my hand.
That's when I saw…
I quickly gulped down the whole glass of wine and the headache began… I am not going to put you through my month long headache, I will however share with you the top 5 things that I have learned so you can
1. Have a good TRUSTWORTHY technician. I went with an online company and long story short, I was not satisfied nor did they seem to care…
2. If you have a link to another site that is infected, your site can show up as infected too! Who knew right! Thank you so much Deby for making the connection for me!
3. More is not always better. If you have more than one security program on your computer, you can actually detect problems that aren't there. IE: I use Kaspersky Internet Security. When they didn't detect the malware, I downloaded an additional 3 programs. While I felt productive because I was now detecting issues, what actually happened was the programs were detecting each other as viruses. This was explained to me like this, we all know that teen boy who thinks he's going to be smart and have three girlfriends, sooner or later they are all going to find out and he is going to be single.—it gave me a chuckle.
4. Ask your friends! My hubby is even less tech savvy that I am, so he is no help at all. While I don't know anyone else in real life who has a blog, I turned to my online bloggy friends (ie: Deby) and we were able to make connections and get things done.
5. Once you get a virus, you may remove the threat, but you have to get a technician to repair the damage. This is like a child falling on roller skates and skinning their knee. You can take off the roller skates (the threat), but you have to clean the cut, put on the medication and a band aid in order for it to heal.
After all this, I am back up and running, but I am paranoid that this will happen again. The down time definitely hurt me, but I am determined to move on and use this experience as motivation. I'm even looking into a new computer, the Macbook Air. I've heard Apple computers are much less likely to get infected. Do you use a Mac? If so, what do you think of it? What tips or lessons have you learned from getting a virus?
I hope this post finds you and your computer happy and healthy!!
How do you know if your site has a warning?
Thank you Heather for sharing about what must have been a very stressful time.  So how can you know if Google has placed a warning or restriction on your site for Chrome Browser users?  You can set your own Chrome settings to display or ignore these Malware warnings – if you have your own site you should be aware of what other users might be seeing so do set this in your Chrome Settings.
Go to Settings –>Show Advanced Settings –>Privacy –> Enable Phishing and Malware Protection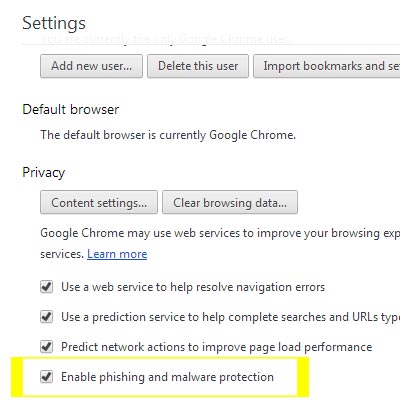 How can you prevent this happening to you?
This has also happened to me a couple of times at my sewing site and the cause in each case was a link on the site out to another site that had been infected.  Both times, a blog-hop event was the cause.  In the early days of the sewing site, to bring in more traffic, I would take part in blog-hops and giveaways with other bloggers.  So I had quite a few links out to other small sites – and smaller sites can sometimes mean new bloggers who aren't quite so security aware.  If one of these sites you link to gets a Danger Malware Ahead warning, then by association your site gets the warning too.
One such link also landed me in trouble with Norton Safe Web and also got the sewing site a caution rating with Norton – but again by removing the link and submitting the site for review I got the all clear green light.
So do be aware of who you are linking out to and restrict links on your site to other sites and content you trust.  Trying to track down the offending link can be difficult if you participate in these events often or have a long-standing site with a lot of links.
If this happens to you
But if you view your site and do see this warning, don't immediately panic.  It might just be as simple as finding and removing the link to the affected site and immediately Google will remove your warning message.
But of course it can be something more serious.  Perhaps your site has been hacked and malware or viruses or even annoying advertising or 'inappropriate content' are now present instead of your site, or hidden within its code.  What can you do then?
I don't know how much time and money Heather spent trying to sort out these problems, but I understand how worrying these kinds of problems can be.  Do you remember when the Moms Make Money site had received several blackmail threats?   At that time I took a lot of advice about site security and I was referred to GoDaddy for their excellent Site Scanner service.
You can go here and read all about it – you get a lot of service for your money.  Basically its a service that runs a daily security check on your site and emails you the results, making recommendations on action you need to take and any threats or warning detected.  (You don't need to host your site with GoDaddy – it works with all hosting and sites.)  It will warn you right away if your site gets a Google warning, or fails any of their other security checks.  Then – the best part – you can get one-on-one personal telephone and email advice from their security experts 24 hours a day on how to correct the problem.  At NO EXTRA CHARGE!
"How does GoDaddy Website Protection Site Scanner work?
Our daily security scanner checks your site for potential gaps in your website security. For example, it checks your URLs, submits forms, posts comments, and performs other tests to find known Web application vulnerabilities. Site Scanner organizes the scan results in our easy-to-read online scorecard, so you can see the severity of any threats. From there, it gives you suggestions on how to resolve the issues. If you're still not sure what to do, you can contact our award-winning online security professionals for one-on-one advice."
What's included?
Trusted Site seal
Daily website vulnerability scan
Daily scan for malware links
Scanning for one website
Google Safe Browsing "blacklist" check
Online dashboard
Email notifications
Phone and email support from security experts – Our expert support staff are available 24/7.
The GoDaddy Site Scanner Security Service (affiliate link) costs from just $4.19 a month.  Look at it like an insurance – it's a premium you pay for safety, security and peace of mind.  If nothing bad happens, that's great, at least you know your site is safe and secure.  But if something bad should happen – that $50 you paid for the year is going to seem like a bargain to quickly get a site security expert giving you personal one on one advice and helping you get your site clean and online again in no time.  When I was under threat, along with my daily automatic backup, I felt so much better knowing these guys were watching over my site and would let me know if something went wrong, and help me put it right – that kind of peace of mind is priceless.
* * * * *
And don't forget to drop over and say hello to Heather – her site's all squeaky clean and looking forward to welcoming you.