We all love free stuff right?  And you will often see bloggers reviewing products on their sites which they go on to disclose that they got for free.  But where do you find these opportunities?    If you are in the US, Canada or the UK you can sign up with BzzAgent.  I've asked Heather at Work from Home with Kids to tell us all about her experiences of working with them and getting stuff for free…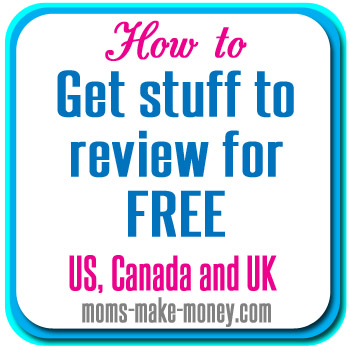 Hello fellow Moms Make Money readers. I feel extremely privileged to have the opportunity to write this post for you today. I myself am an avid Mom Makes Money reader. When I have questions, the first place I look is here. So, having the ability to share this opportunity with you is amazing!
Today I wanted to share with you a program called Bzz Agent. This is a program that is not only open to bloggers but anyone who likes to share products with their friends and family (and really who doesn't!)

The program is super simple and they lay it out step by step for you so there isn't any guessing.
Here is how it works:
1. Sign up
2. Accept campaigns that you are interested in.
I started with them three months ago and within that time I have reviewed three products, roughly one a month. So far, I have tried got2be POWDER'ful hair powder, Dr. Scholls Massaging Gel Insoles and FAGE Total Split Cup Yogurt.
3. Receive and try out your FREE PRODUCTS.
4. Share your opinion via tweets, Facebook posts, word of mouth or even blog posts.
Now that your hair is picture perfect, your feet feel like they are on cloud9 and your tummy is filled with yummy Greek Yogurt, go share the Bzz! You record all of your sharing within your BzzAgent account and get points. These points contribute to your BzzScore. The higher your score the more reviews you are eligible for.
With clients like Purina, Colgate-Palmolive, Johnson and Johnson, Kraft Foods, Clinique, P&G and more who could say no?
BuzzAgent also partnered up with MyPoints to extend your rewards. When you complete tasks within your BzzAgent account, they are then converted to MyPoints where you can save up to earn rewards like giftcards, gas cards, dining and more! If you choose to enroll in this additional program you can also get points for shopping online.
Have you tried BzzAgent? Will you sign up?
Heather is the owner of Work from Home with Kids. She is a work from home Mom of two girls ages 1 and 2. Working to help others find work from home opportunities and a balance between work, kids, marriage, meals and everything else in between. All with a cup of coffee in her hand! Connect with Heather on Facebook, Twitter, Google+, Pinterest and Instagram.