When I first started to blog and wonder how to bring new visitors to discover my site, I read a few very brief articles about linky parties but I didn't really get it.  Now that I have had chance to take part and been to the 'party' I wanted to share with any new bloggers all of the info about why Linky Parties are so important for new bloggers.

Just what is a linky party anyway?
A linky party is a post on another website featuring a tool that allows you to post your own projects onto the hosting website, with a photo and a link back to your site.  It's a great way to highlight and share your best content and possibly get featured on bigger blogs.  These usually run weekly, although some are every 2 weeks or once a month.  It's referred to as a party because a lot of bloggers 'get together'  to share their work for the week and its a great place to network and 'meet'  new bloggers.
How does a linky party help to grow my blog?
Because lots of bloggers, and blog readers all get together in one place.  You can share or 'show off'  your best posts, projects and content for the week.  It's an opportunity to attract new visitors to your site and they may like what they see and choose to become regular visitors, or subscribe to your posts or newsletter.
If you have a new site, then this is one of the best ways to get yourself out there in front of readers who are interested in your content. You can even find out about other bloggers in your niche and perhaps network with them to work on ideas together in the future, ask about guest posting and more.
How do I get an invite to the party?
Don't worry – everyone is invited to take part!  But there are usually some rules and these will vary by host.  Some will ask you to link back to their site by way of a button somewhere on your site,  some will require that you do so.   But some will be more specific and insist that you link back within the actual post you are promoting.

Linky party rules courtesy of Diana Rambles
I know that not everyone agrees on this point, but I recommend that you set up a separate page on your site where you can list the linky parties you take part in – either as a list of text links perhaps sorted by day, or a display of buttons.  This is better than including them all in every post that you plan to link up.  After all, when a visitor comes to read your blog, you want them to stay and see what you have to say, not be tempted away by all those lovely buttons which will only take up valuable space on your front page, and take readers quickly away somewhere else.
It really depends on how many parties you are linking up to.  If its only 2 or 3, then its OK to link within the post.  But a dozen parties – best on a separate page.  What do you think?
When you write your post, remember to tell readers that you are linking up and refer them to your party page.
How do I link up?
It might look daunting if it's your first time, but you'll soon get the hang of it.  Although there are several linky tools you might come across, they all operate in the same way.
At the bottom of the party post will come all of the links so far, then a button that will look like this.

Click on the blue button to bring up the boxes for your info – like these.
Some notes –
The URL.  This should be the URL address for the actual post itself, not for the main or front page of your site.  So not http://moms-make-money.com, but the full post address such as http://moms-make-money.com/tiny-tips-2-traffic-be-the-first-at-the-linky-party/
The Name – not your name or the name of your blog.  This should be a few words about your subject.  It doesn't have to be the same as the title of your post, but should entice readers to click though, rather like a newspaper headline entices you to read the article.
Once your details are entered, the Linky Tool will pull all of the images from the linked to page so that you can pick a thumbnail to display at the party.  You have the option to Select, which will take a square thumbnail from the center of your image, or you can chose to crop and you decide which part of the image to use as your thumbnail.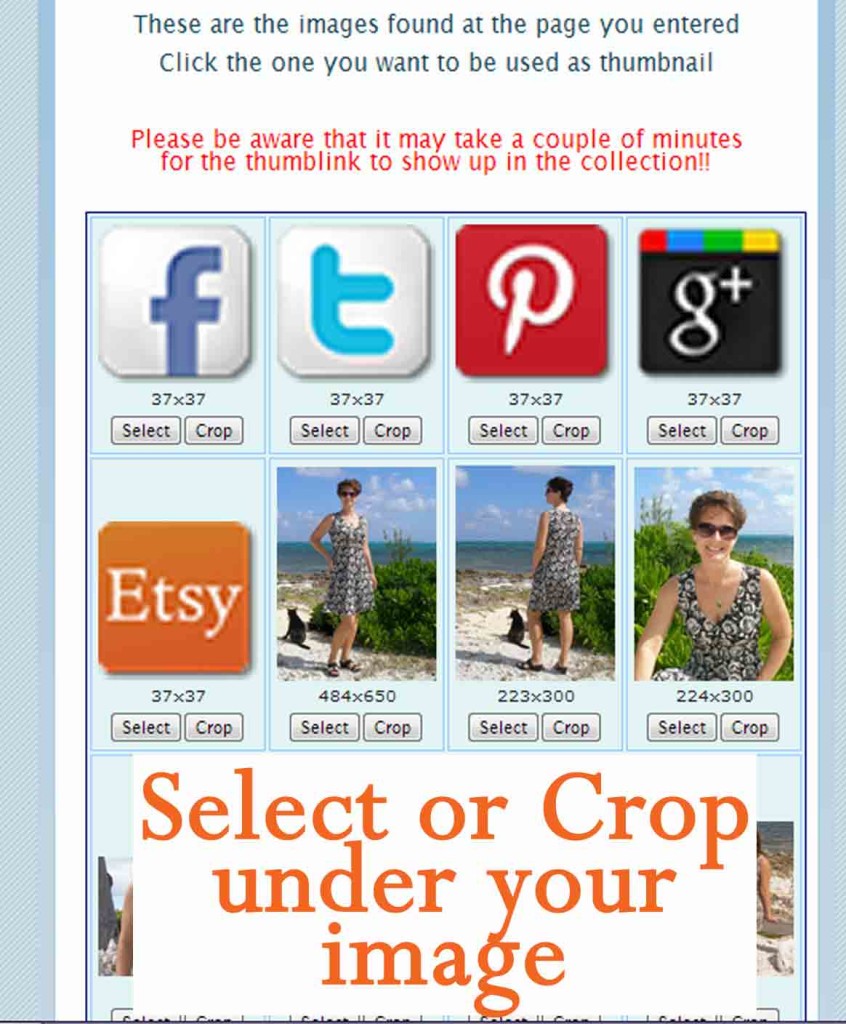 Drag the thumbnail box over your image until you have selected the best display for your link.  It can help if you have thought about this when you wrote your post, and included an appropriate shaped image to link to.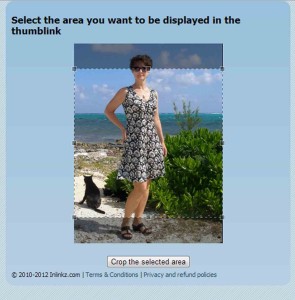 And your thumbnail and the description of your post will appear in the Linky Party. It might take a few minutes for the link to be displayed.
Which parties should I link up to?
Generally speaking, the larger parties have the most visitors and in theory should deliver your link the most views and therefore the most visitors to your post.  However this doesn't always work out.  Sometimes your link can get lost in the sea of hundreds of links and views might actually be diluted by the sheer number of links to visit.  If you are posting a Christmas Cake recipe, and so are 20 others, then you have to 'fight' the other bloggers to get those views.
If you have a particular niche, then you can get great traffic from linking up to niche specific parties even if these are much smaller with fewer links and on the smaller blogs.  Give lots of parties a try and see which ones work out best for you.  Check your analytics and statistics to see where your referrals are coming from.
Linky party etiquette
You should behave yourself at the party and follow the correct etiquette – it's the polite thing to do!
Do comment on the party and thank your host

Do follow the rules – if you are asked to link back, then do so.  If asked to follow the host, then you should do so.
Don't be a link and run party-goer.  You are there for comments and views and so are the other participants.  So visit some of the other links that catch your eye and leave a meaningful comment.
When visiting others, be genuine, and don't just use your comment as a way of asking other people to visit your site.  It's Ok to leave your site address, but comments on other sites is not the right place to promote yourself so blatantly.
Link back to your host – even if its not essential, its only polite.  This also increases your chance of being featured as many won't feature links without a link back.
What are the top tips for linky success?
*  A picture is worth a thousand words – and can mean 100 views!  Your thumbnail is crucial for visitors scanning through all those links in the party to decide which ones to visit.  Make it clear, bright, and colorful.  Catch the readers attention.  Make sure visitors can see right away what your post is all about.
*  A catchy title for your post can also entice readers to visit – on my sewing blog the link about My Porn Style Blouse got HEAPS of traffic!  What sort of title would catch your curiosity?
*  Getting featured is the greatest honor!  If you have a photo that is top-notch then the hosting blogger may chose to 'feature' your link in their round up.  It may be pinned, tweeted etc and have pride of place on their blog with a back link to your site.  Some bloggers chose their favorites, some will feature the links with the most clicks.  Either way will get you even more traffic.  So make your photos pin-worthy.
*  Arrive at the party early. The sooner your link is posted, the more visitors coming later will have a chance to see it and visit.  Read more in my Tiny Tips post – Be the First to the Linky Party.  Do be aware that a party might be called 'Monday Madness'  but it might open for links on Sunday night – aim to be there Sunday for the best results.
*  If you want comments on your own posts, make it easy for visitors to comment by ensuring you deactivate comment word verification.  You can continue to approve all comments prior to publishing.  Read more about this in my recent post – Make it Easy for Readers to Comment.
Should I host my own Linky Party?
Well, to be honest with you, I don't think the internet needs another linky party.  And its a lot of work to visit all those links, leave comments, do features and schedule the posts every week.  And it would be a bit disheartening to do all that work and perhaps only get a few links.
If you have a blog in a particular niche where there is no or few relevant linkies, then you could give it a try, perhaps in conjunction with another blogger in your niche so you could share the workload and have the same linky on both sites.  Or if you have a large blog with lots of traffic, but not much interaction with your readers, then it could be a way to get a dialogue going.
Otherwise, just try to use your valuable time in visiting other linkies and drawing readers to your site through publicising your great content.  This will get you more 'real'  traffic and more regular readers and subscribers.
Authored by: Deby at Moms Make Money