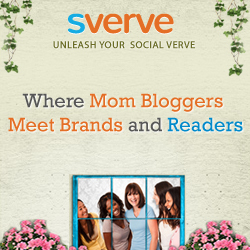 Are you a Sverve member yet?  What – you don't even know about Sverve?  Well you should!
I wrote about Sverve some time back now – Join Sverve for great jobs and opportunities for Bloggers, but if you are new here you might have missed it so here's a brief recap of why you should be a Sverve member.
Sverve is a network where brands and bloggers can meet and brands promote their 'campaigns' which bloggers can apply for.  In return for working on a campaign, you will usually be required to write a 'sponsored post' giving a review of a product or service.  As payment, there may be cash, free products or a combination of the two.
As well, Sverve is a great place to network with other bloggers, endorse other bloggers and receive endorsements yourself.  And its one of the best places to find blogging tips and tricks and keep up to date with all the latest news at the Sverve blog and on your desktop.  Follow other bloggers to see what blogging tips and articles they pin and share.
Paid jobs for bloggers
Here are just a sample of the campaigns on the board right now:
Tasti Lee Tomatoes – Compensation: Fresh Tasti Lee tomatoes to try, Tasti-Lee reusable bag, apron, recipe cards, key chain, pencil and chap stick
Le Tote – $20 to promote the service on your social media channels
Fysiko Eyelash Serum – $30 plus free product
Review a $180 laptop bag and receive $40
Review the Find and Save shopping site for $35
Prosperity Candles – product for review
Knoala  – review phone app to receive $50
Fitmark bags – free bag of your choice to review
The Sverve desktop – your details, see new campaigns, see your score and endorsements and look through the tips and blogging updates shared by those you follow.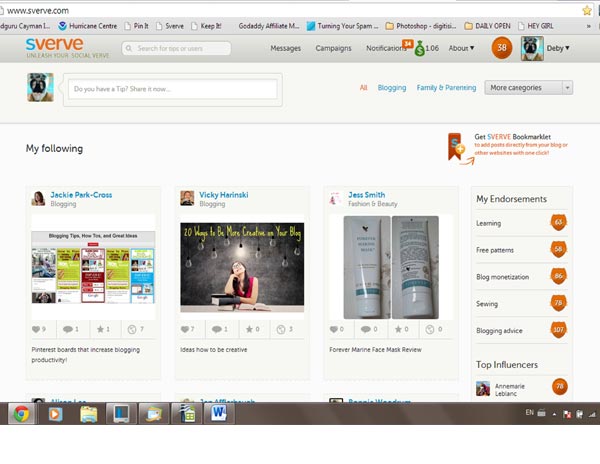 How it works:
*  Hop on over to Sverve and sign up.  (You are an 'Influencer', make sure to sign up in the right section!)
*  Simply add up to 5 areas of influence on your profile
*  Share quality information on the sverve platform like your latest blog posts and best tips.  There's a Sverve bookmarklet to add to your browser so you can share content quickly and easily a bit like the Pin It button.
*  Follow other influential bloggers and be followed
*  I'd be delighted to receive your endorsement for blogging tips!
*  Apply for the campaigns and jobs
*  Your Influence Score will be generated based on real Endorsements that you get and the type of content you create as well as you scores and followers on social media. As more people like, favorite and share your tips, your score will increase. You will have a score for each area of influence as well as an overall score.
So what's my score – a rather average – 38. I don't have many social media followers 🙁  The current highest score is 78 – these are the bloggers with the biggest following, the most influence.
 So come join me on Sverve and start working with brands!
Authored by: Deby at Moms Make Money