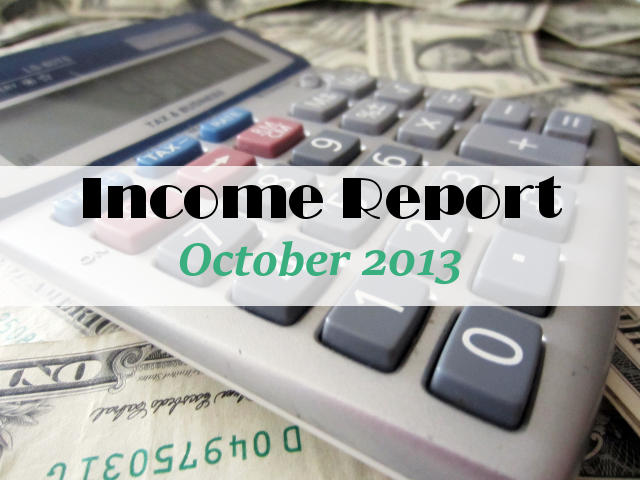 Well I'm not sure what to say!  I thought September was a fabulous month, but October was even better!  Again, everything just seemed to fall into place at the right time, click rates were high on my offers, and they converted well to earnings and commissions.  Here are the details:
October Blog Earnings
Google Adsense – $272.82
Sverve – $12.00
Infolinks – $50.45
Blogher – $320.53
ShareASale – $2,364.67
Commission Junction – $1,593.73
Escalate Network ads – $15.69
E-book sales – $89.71
Rivit Media – $20.96
Sponsored Tweets – $4.56
Social Spark – $47.47
Amazon – $56.44
Direct advertising – $154.82
Blogvault – $54.00
Mad Ads – $4.33
Sales of website add-on services – $17.48
Sewing pattern sales – $310.83
Other small affiliate sales – $105.07


Total – $5,495.56

less:  Purchase of domain names and hosting accounts – $602.50

Net Earnings – $4,893.06
Expenses during the month were:
You can find previous month's figures under the My Income tab above.
Traffic (both sites):
March = 69,850
April= 129,872
May = 138, 752
June = 147,100
July = 149,000
August =141,990
September =140,933
October = 158,710
October in detail
I did enjoy the highest traffic on my sites so far during October, but not enough of an increase to fully explain the increase in revenue.  Google also decided towards the end of October to take away a lot of my search engine traffic – again, suddenly at 2pm one day, it stopped almost dead – and it was down by around 65%, but is recovering slightly and at the time of writing is down about 40% over the previous steady level.  Why they do this both a mystery and a nuisance to me and a lot of other legitimate websites.  It means I have to work harder and harder to maintain my page views.
What was their latest update – hummingbird?  More like skunk !  I believe smaller sites and bloggers are going to find it increasingly hard to get good traffic from Google as they seem to be favoring the larger sites in search results and blogs are very much out of favor.  Also I am finding in my own search results that Google is favoring its own products in their results – YouTube videos, Google plus status updates etc.  I can assure you if I search for a subject, I don't want some random persons G+ status update on the first page of results!
Again my affiliate income dominated my earnings, and a big thank you to any readers that clicked, purchased products or services through my sites as a result of my recommendations.  You rock!  I hope that my recommendations are useful and valuable.
My sewing pattern sales went well during the month, although I don't have plans to release any new ones this side of Christmas so I expect a drop off in this area.  I did set up a group of enthusiastic sewists to help me test my patterns prior to launch and should be getting some new software to work with so I'll be expanding into paid-for clothing patterns in the New Year.  My free pattern this month for the little black dress was well received and offering these free patterns continues to bring the majority of site traffic.
I did launch a new e-book to Amazon and sales on this one and my previous e-book are both steady and add a little extra income.  I do like the work once, sell it many times approach to both e-books and sewing pattern downloads.  I think although it won't contribute massively to the numbers, it will be a steady income which I could still rely on some months down the line even if I were to take a break from blogging…
Targets for November
My seasonal sewing series running all through November will actually probably result in much lower earnings in November and December as I promote the work and sites of other bloggers and the sponsors who donated prizes.  I won't be releasing any free or paid patterns, nor reviewing or recommending products, including links etc.  But there will be a giveaway every day and a grand prize giveaway at the end with fabulous prizes.  Drop over to take a look and maybe you could win!

The targets for November:
Continue to work on my Seasonal Sewing Series – with daily guest bloggers and daily projects, sponsors and prizes, this has become almost a full time job behind the scenes.  I hope it brings some new readers and followers.
Continue to increase the mailing lists.  The sewing list has especially seen excellent growth in the last month.
Start work on a blogging schedule for 2014.
Learn my new sewing pattern software coming mid- November.
Work on setting up more free websites and carrying out the free Blogger to WordPress transfers.
It's my blogging birthday on 28th November – 1 year since I first started at So Sew Easy.
Just carry on doing the same thing – it seems to be working for me!
Your input
Tell me more about how I can make the Moms Make Money site more useful to you.  Want do you want to know about?  What would you like to see reviewed?  What would you like to learn? This site was originally set up to answer your questions, so let me know how I can serve my readers better – leave a note in the comments or drop me an email or even reply to one of my newsletters.  I'd love to hear from you.
Authored by: Deby at Moms Make Money