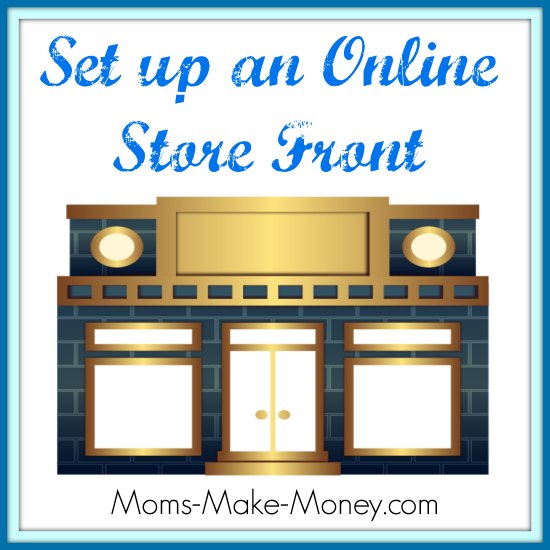 We looked at the various different options available depending on what you wanted to sell and how you wanted to sell it in our series introduction.  In Part 1 I showed how you could easily sell digital downloads from your existing site. Now in this article we are going to look at how to set up a separate but all encompassing store which you can use to sell your own products, 3rd party products, drop-ship products and any affiliate products.  This store really does do it all!
How to set up an online store
The first thing to do is show you around the store I set up myself.  You can see the live version of the So Sew Easy Store now.  Please do drop over and browse around and get a feel for how it works, add a few items to your cart, maybe set up a wishlist and register. Look through some examples of items I have for sale in the store.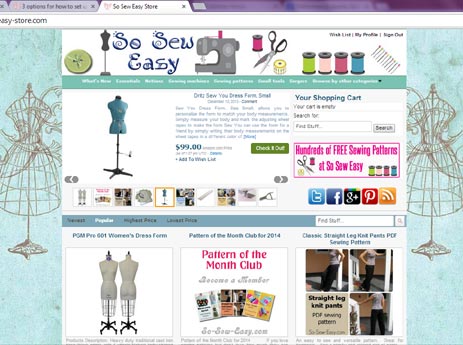 Here are a few examples to look at:
 An Amazon affiliate product.  Clicking this product takes you to Amazon to read more and purchase.  Amazon are excellent at upselling and perhaps the buyer will add other items to their cart or something from their wishlist too.
A sewing pattern on Craftsy. Clicking on this product takes you to Craftsy to buy the pattern.  I could also sell the pattern in the store myself, using the Easy Digital Downloads plugin we looked at earlier.
A drop-ship product.  If you buy one of the PGM or Fabulous Fit items it adds to cart, adds on shipping and when you check out, you pay me.  I then request a drop ship from my supplier direct to the customer, pay the net amount for the item and keep the difference as my commission.
An affiliate product with another supplier.  You can add in as many affiliate products and suppliers as you like and link the item to the deep-link on the affiliate website.
A membership product.  Buying the Pattern of the Month Club pays to my Paypal Account and adds you to my mailing list for future pattern releases.
Normally when I see a product I love and use, I'll do you a quick over view or tutorial on how to set up.  But the team at Covert Store Builder have already done a really great job for me, so I'll simply share their video here.  Don't get put off by the overtly-salesy tone, and the cheesy sales page.  Just looks at the features, see what you can do with it, how it could replace your existing Amazon store, and consider how this could work for you.  Skip through to start at 2:50 to skip the sales chat and look at the features.
Covert Store Builder has been a revelation for me and me sewing site.  It looks so much more professional than my old Amazon Store.  I've left the old store up on THIS PAGE so you can see how bad it looked before, compared to THIS PAGE which is now my new super-store.
If you don't have any products of your own then this store front is a perfect way for you to earn a little extra money from your site.  You can include Amazon products, and let's face it they sell everything.  You can easily import any affiliate product from any of the merchants on Commission Junction and you can add in manually any other affiliate products from ANY other merchant anywhere that you have a relationship with.  So if you want to try an Amazon store or affiliate marketing – you'll love this product!
Ideas for sites and products that would work well with this store:
Cooking and recipe sites – sell and link to kitchen tools, equipment and accessories, or even recipe books.  Sell your own recipe e-book.
Crafting sites – link to and sell the enormous range of crafting supplies from Amazon and other affiliate stores such as JoAnnes etc.
Book reviewers – sell books and e-books or Kindles etc from Amazon.
Homeschooling – link to the materials and books on Amazon and other affiliate retailers.
Fashion and lifestyle/home decor bloggers – any affiliate products you love can be included.
Photography and art sites – sell photographic equipment.
The list is endless.  If it is out there for sale and the retailer has an affiliate scheme you can join, then you can include that product in your store, link to it from one of your posts and make the sale!  Once a person is in your store, they may see other products they like too.
Covert Store Builder is a WordPress theme rather than a plugin, so you can't simply add it to your existing site.  You can add it to a sub-domain, add another install of WordPress and add it as a separate theme if you are technical. If you are on Blogger or another platform, or just want a simple solution, then setting up a new domain is the quickest, cheapest and easiest way to go.  For the sewing site I have So Sew Easy, so I bought and added a new domain called So Sew Easy Store and set everything up there entirely separate from the main site.  But the look and feel are the same, and I link to it from my menu so it does look inclusive.
My special offer for you
Covert Store Builder costs $47.  You know I usually recommend free products where I can, but this is one super-duper product I personally recommend and I think you can't get anything else that works this way for this kind of price.  You could recoup the cost of this product quickly with your sales commission.
I really want you to give this option a go for your affiliate sales and I'm going to make you a great offer!
If you buy Covert Store Builder, I will set it up for you!
You will need to get a domain name and hosting account (I'll help you with that too – it costs just $3.49/month with Bluehost) and I will set up the domain for you, install WordPress, install Covert Store Builder and set it up for you with my recommended settings.  Of course, you will need to add in your own content and products – but if you've seen the video, you can see how quick and easy that is to do.
Then you will have your very own store on the internet. While I can't guarantee you millions in sales like Amazon, it can be a great place to start earning money online.
To take me up on the offer, simply purchase Covert Store Builder from any of the links above by 30 March 2016, and send me your receipt. I'll send you back details of the next steps and we will have your store up and running in super-quick time.
Of course you don't need to take me up on this offer if you already know how to set up these things for yourself.  Just get Covert Store Builder and be up and running in a few minutes.
Need some tips on how to get the best from Affiliate Marketing?  Try these posts from the archives:
Next in our Setting Up Store Series is the last.  How to sell your own products or Drop Ship goods using the Covert Store Builder plus a free plugin that allows you to collect money via Paypal and integrate your own products into this great looking store front.