I've recently been sent details of this great offer for small businesses – like you!
Available for a limited time by ActionCoach.com, they have an offer that gives you a complimentary coaching session valued at $375 plus they email you  a free eBook (Grow your profits by 61%).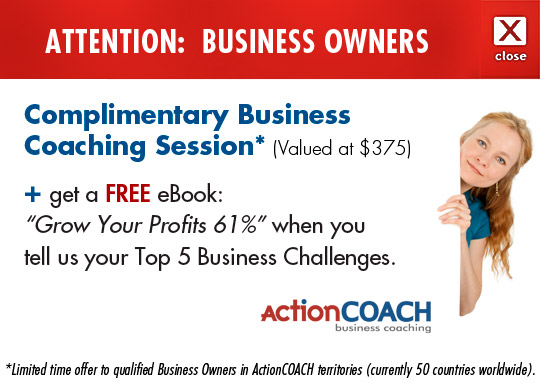 What's the catch?  Well it's part of a market research exercise so they want you to answer a brief 1 page tick-box questionnaire of your Top 5 Business Challenges.
Sadly this isn't available in my area (the Cayman Islands) but I think it's a great opportunity to be able to ask a real business coach some questions about whatever you need help with – marketing, traffic, advertising, staffing, legal questions – anything.  And get yourself some action points and goals to help move your business forward.
If you are like me, you might be rather shy about talking to a stranger about these things. But give yourself some time to jot down a few burning questions or issues you want help with, and be brave and you never know what you can get out of this and achieve for your business.  It might be the 'ah ha' moment you need to set you off in a very profitable direction.
Plus, even if you don't take up the offer of the free business coaching session, you can always enjoy the information in the Grow Your Profit e-book.