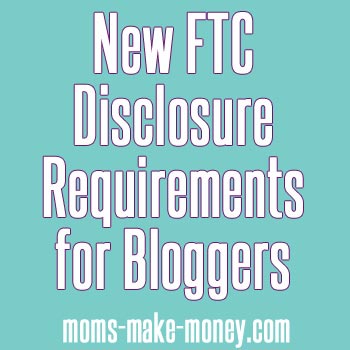 New FTC Disclosure Guidelines for Bloggers
Did you know that in March 2013 the FTC issued new and updated Disclosure Regulations that apply to bloggers and website owners who display advertising and use affiliate links or product reviews on their sites?  And the new rules appear much clearer, and more stringent, than we might have believed before.
Until now most bloggers have been adding a formal Disclosure Policy to their site and referring readers to this policy at the end of their posts.  Or perhaps writing a disclosure summary at the foot of the post confirming that products were received for review, or the post contains affiliate links.  But it is now clear from the FTC new guidelines that this is not sufficient to comply with the law.
You can review the new guidelines here – http://www.ftc.gov/os/2013/03/130312dotcomdisclosures.pdf
What is a Disclosure?
A disclosure could be considered the "fine print" that a consumer should be made aware of before making a decision to buy/invest/sign up.  If you have an interest that might have influenced your decision to make a recommendation about a product or service, then you have a duty to let your readers know about that.  For example, if you were paid to review a product, given a free product to use in a project, given a product to review, or will receive a commission on a sale of a product you are recommending.
For example, below the FTC gives a clear example in their document (See example 21 in the above document) about a blogger who received free paint and wrote a post reviewing the paint used on one of her home decor projects.  At the bottom of the post, the blogger disclosures that she received the paint for free in return for the review.  But the FTC say at the bottom of the post is not good enough.  Their argument is that the affiliate links or product links appear higher up in the text and therefore a reader might click away before reading the disclosure at the bottom.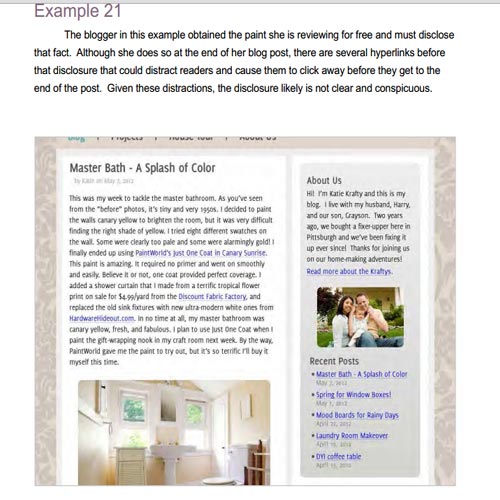 Fair enough I suppose.
I've picked out what I think are the main take-away points from the new document:
Required disclosures must be clear and conspicuous.
The closer the disclosure is to the claim to which it relates, the better.
Display disclosures

before

consumers make a decision to buy — e.g., before they "add to shopping cart" or click away to another site or page.  Also recognize that disclosures may have to be repeated before purchase to ensure that they are adequately presented to consumers.
So now that the Guidelines have been very clearly set out, are you complying?  Would a reader know that a link was an affiliate link or that a post was a sponsored post right away before they had a chance to click away to the sponsors site or make a purchase?
What do you think of these requirements?  Overkill for small bloggers?  Or entirely necessary to protect readers from making uninformed decisions?
Recommendation
For all posts that contain affiliate links or where you are writing a sponsored post or review for goods you received for free – from March 2013 onwards – you should include a disclosure at some point in your post above the first link, including a link to your full Disclosure Policy.
(Need a Disclosure Policy – read Writing a Killer Disclosure Policy.)
Note – this post is aimed at bloggers in the US.  If you are outside the US please be aware that different requirements may apply to you.  Please do not take this post as any form of legal advice.  Make yourself aware of the local requirements as they apply to you.
Authored by: Deby at Moms Make Money