If you have been blogging for a period of time and have started building up your traffic, chances are you are already familiar with affiliate networks like Shareasale and CJ .  For the most part, these big networks are likely to have the offers you want to show on your site.
But what if you're looking for advertising offers that are not as mainstream as the big affiliate networks?  That's what happened with us recently.
We have a niche site that is becoming a bit infamous if you've read some of our other recent posts.  It has been our nemesis for going on a year now.  It gets a reasonable amount of traffic and yet makes us almost no money.  Granted, we spend almost zero time on the site but still you'd think the traffic would be worth at least a little bit.
So after trying a few things like Amazon which averages us about $3/month and Adsense – better at about $30/month  we figured we'd look around and see if there were other opportunities out there and that's when we stumbled onto Peerfly.  Ok, that's not really true…. we signed up for Peerfly almost a year ago but promptly forgot about it until just very recently.
Signup Process
Signing up as a publisher is pretty easy.  They do ask you quite a few questions about your marketing methods and I believe they also verify your phone number.  But it's all automated and not very hard.  And it's there to protect yourself and most especially their advertisers.  If I recall it took all of a couple of minutes from start to end.  There is no cost to signup of course.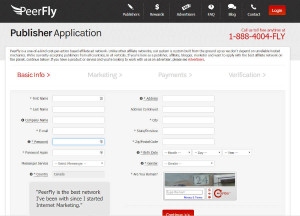 Types of offers
Peerfly is a CPA network, meaning they pay on a defined action from your visitor, not on the amount of ads shown.  Pretty much the norm these days.
There were quite a few advertisers that we weren't interested in but that is normal for most affiliate networks.  They have things like online surveys and stuff that is just kind of spammy, at least for us.  It totally depends on your site, maybe these ads would work for you. I think that's why we didn't use them when we first signed up.  We didn't look deep enough to realize they had offers that were suited to us.
But then we went back this time around and they had some interesting ads that we think were suited to our audience.  That is yet to be seen since we only put them online about a week ago.  But some of the ones we chose were some 'As seen on TV' items.  Sure, for the most part they are cheesy but you can't tell me that you or someone you know hasn't bought something off the TV.  Guilty pleasures.
We looked at the sites and they were really nicely put together.  A lot of hype of course but that's to be expected.  But the price of the offers was really good – usually around $20 including shipping and the commission on the sale averages around $6.  That is pretty darn good!
That is just what we chose, based on what we think will sell to our visitors.  They claim to have around 2000 active offers so there is a good chance that they might have something you'd like to promote as well.
Payments
Peerfly pays weekly, bi-weekly or monthly by direct deposit (ACH), Paypal or Payoneer.  Or good ol' fashioned check.  As a full disclaimer, since we are new with them as well, we have no experience with payments and are just taking this information from their FAQ.
Referrals
If you refer another publisher to Peerfly you make 5% of their earnings for life.  So yes, we would appreciate it very much if you used our link if you decide to join the network.  But it's also a great opportunity for you as well to make some passive income if you can promote their network on your site.  And passive income is the key to success.
Rating
It is pretty hard to give Peerfly a rating since we are so new with them.  Their interface takes a bit of time to get used to and it seems to be mostly targeted towards hardcore affiliate networkers.  Which we aren't.  And chances are you aren't either.  But aside from that, they have some good offers to advertise that you probably won't find anywhere else.  All in all, for what we are looking for in an affiliate network I'd give them a rating of 7.5 out of 10.
Summary
If you have adsense ads on your site, it might be time to switch at least one or two ad spots out to other affiliate networks like Peerfly and see if they work better for you.  Do like us and pick the ads that you think are suited to your audience and try them for a couple of months.  As we find new affiliate networks, we almost always join them since there can be new opportunities that we never thought of before. We would absolutely love to hear your experience!
Join Peerfly affiliate network