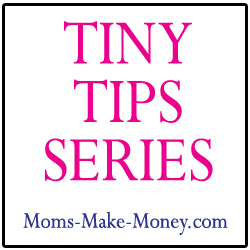 Welcome to the first post in the Tiny Tips series.  Sometimes, you may not have the time to read a post entitled "100 top complicated tips for driving traffic to your blog and how to implement all of these steps in 6 weeks".  Wow – with our busy lives?
But you might just have 10 minutes to read a 'Tiny Tip' and implement a single small idea that can make a difference.  Or at least a tiny tip can give you something to think about as you go about your day.  If you are anything like me, you are already incredibly busy with more on your to do list for today than you could probably achieve in a week – so I do try to break things down into manageable bite size chunks both of information and action steps.
Tiny Tip for today – Traffic Building
Face it, there is no point having the most beautiful and appealing adverts in your sidebars, and the most amazing sponsored posts and offers to your readers – if you don't have any readers!  Traffic to your blog or website is perhaps the most vital link in the chain when it comes to earning from your writing.
So tip for today – POST FREQUENTLY and be consistent
Readers like consistency.  It's confusing if you publish 4 posts in 2 days and then nothing again for 10 days.  Are you on vacation?  Have you decided to stop blogging?  Attention spans are short and distractions are high with so many other sites vying for attention.  So set up a blogging schedule and stick to it.
For my sewing blog, I schedule a post every 5 days.  This will generally be a main post on a distinct project or subject, or a single post in a series.  In between I will post again on smaller subjects or on anything that comes up – like a sale my readers should know about.  But never more than 5 days goes by without a post.  A round up of my posts is sent by email to my subscribers 3 times a week.
This isn't just important for your readers.  The more frequently you post, the more traffic you get because the search engines are indexing your content more frequently and search engines love sites that are up to date. Plus the more you post, the more (awesome) content you will have to keep your visitors engaged on your site when they do visit – right?
If you find it hard to be consistent – you might like to use my Posting Schedule.  I use this for my own posting, and it helps me to see at a glance what posts are part written, which need photos, which are ready to publish and when they are scheduled for.  And when a post goes live, it reminds me where to publicise my latest updates.  There are also blank columns for you to add in sites that are relevant to your content, maybe your favorite linky parties.
You can download this from my Google Docs here –
Pin this on your wall by the computer and keep yourself organised, posting frequently and consistently.
Authored by: Deby at Moms Make Money