"The Money is All in the List"  – you may have heard this before, and it's as true for your blog or website as any other.  You MUST collect email addresses from your visitors so you can contact them later, remind them to visit your site, showcase your latest content or promote your latest offers.  Possibly the biggest mistake you can make as a serious blogger, is to not concentrate on building your list and offering a newsletter.  So I'm going to help you with Setting Up Mail Chimp.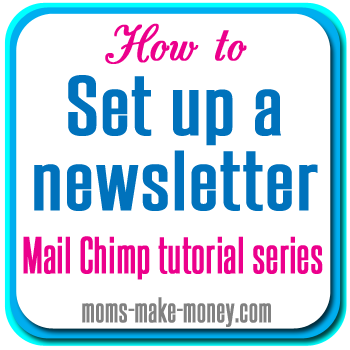 With so many websites and distractions these days – stay in front of your readers with a newsletter.  You can even set up with Mail Chimp to have all of your blog posts emailed to your readers daily, as you post, or a weekly round up – more to come on this later in the series.
When starting out and for small bloggers, I recommend using Mail Chimp for your newsletter. It's free for up to 2,000 subscribers and you can send up to 12,000 mailings a month. That is more than enough for the most of us. It's not difficult to set up, but there are a few things to be aware of.  And to make it easy, and help you set up the right things in the right order, I've made some tutorial videos showing you exactly how to do it.  Each is short – under 5 mins, and if you already have an account and know the basics, you don't have to watch them all.
Perhaps you are wondering, why do I really need a newsletter when I already have the option for readers to subscribe to my site and get my posts as they are published ?  There are lots of reasons why a newsletter under your control is a better choice.
Take a look at the full answer here – Readers Question – " Why Mail Chimp instead of WordPress ?
Note – you can make these videos larger using the full screen option bottom right, so you can follow through the on screen instructions more clearly.  You can also increase the video resolution to give greater clarity and definition using the little gear icon that appears on the bottom menu once it starts playing.
1 – How to sign up for a Mail Chimp Account
2 – Entering your personal information and setting up a list
3 – Setting up your newsletter sign up form
4 – Adding your newsletter sign up box to Blogger
5 – Adding your newsletter sign up box to WordPress, in a post, in your sidebar and more
I hope you find the videos easy to follow and useful.  Remember that the newsletter is an additional place where you can promote offers and products to your readers, place adverts etc. and perhaps gain some more clicks on your affiliate links.
Coming next – more about setting up Mail Chimp:
Integrating with Facebook and setting up a sign up box/page on your Facebook Page
Customising the sign up process to use your own words and encourage people to 'double opt in'
Offering a coupon code, discount, download or printable to new subscribers and getting it sent automatically
Setting up Mail Chimp to automagically send your subscribers an email with your latest post, or a weekly round up of your recent content