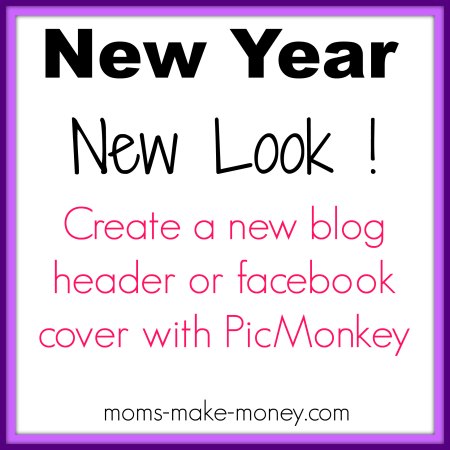 This post first appeared on Create Hype – and it was a bit more New Year then than it is now!
We all have New Year's Resolutions, but in the true tradition of self-improvement, most of them prove to be fleeting good intentions that simply take too long to achieve and are quickly abandoned.  But there are some big changes you can make to your online appearance that don't require any crash dieting, and you can even eat chocolate while you do it.  January is a great time to think about re-branding your blog, website or social media pages and today I'll be showing you how easily you can create a new header for your blog or make a Facebook cover for your page using PicMonkey.
PicMonkey is an online photo editing system, but it can also be used to design Facebook page covers, blog 'buttons' or side bar adverts, graphics for your blog posts and even the entire header for your website itself.  They have a free version and a premium paid version which is only $33 a year for a much wider expanded range of services, graphics, fonts and more.  For the video today, I'm going to use the free version so you can see just how well you can do without forking out any extra money.
In this video tutorial, I'll show you how I created a very simple Facebook page cover to showcase my monthly free sewing patterns on my site at So Sew Easy. I'm certainly no great graphic designer and have no eye for color, but by creating something simple for my page that can be changed out regularly, it gives me an opportunity to get this in the Facebook news feed for my followers with a nice big graphic each month.
Still not sure about doing this for yourself?  Then there are of course plenty of other options where for just a few dollars you can get a professionally designed logo, header or banner.  Try out the helpful folks at Fiverr for a $5 design, or the professionals at LogoNerds for their Crazy Custom WordPress Headers at $17 with lots of other logo and design options at bargain prices.
What changes do you have planned?  If you create a new blog header image or a Facebook cover from this tutorial, do share a link below so we can see your great new design.