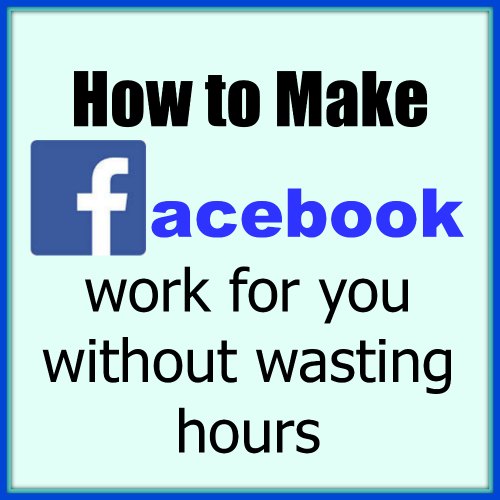 Do you spend hours and hours and hours on Facebook? Blog post written, press publish, it looks beautiful. Now what are you going to do? Why, head over to your social media to publicise your latest fabulous offering. 5 hours later, you've learnt that little Freddie has taken his first steps, one of your friends is in holiday in Hawaii (very jealous, pictures look amazing), you've visited 40 other pages and read 20 other articles, mostly on some obscure topic that really has nothing to do with your blog. Sound familiar? It's the magic of social media working it's charm. Except you're the one falling for it instead of leading it.
The basics about Facebook are that the more you are there, the more you get noticed. Facebook doesn't show every feed you publish to all your followers, or on your personal page to all your friends. It decides how and what to share. It can be really annoying. But that's Facebook, we have to work with what we've got. You can see what is successful on your page and what your audience likes by how many views it gets. The more people who share it and like it the more it gets seen by others. So for me, I know that videos of my kids get seen a lot (I should do more but I'm in the 'don't sweat it' club.) followed by photos and my articles often get less views. I need to work on that (but currently I'm too busy doing guest posts!)
But you can get traffic from Facebook, my analytics tell me I do. But how do you use it to your best advantage?
1. Don't sweat it, I know you WANT 5000 followers, but start small and and build up. It's better to have 100 followers who actually care what you think and engage with you than 1000 who never look at you.
2. Limit your time. It's so easy to get drawn in. Decide what you're going to do, how much time you're going to allow yourself to be there and stick to it. Use an alarm if you have to.
3. Use it to make friends with other bloggers in your field. There are lots of 'closed groups' that you can ask to be a member of. If you don't know of one, use their search function. This doesn't draw traffic directly, but having a good support is great, you can arrange guest post, ask advice and share each other…
4. Random sharing is like shouting into the void (ok, once in a while you'll hit gold but more likely than not you'll just be ignored, or get an abusive reply.) Use the groups to find people to share.
5. Often people will have a 'share day' where they invite people to share. Sometimes the groups have an email that you can sign up to that tell you where you can share.
6. Have your own share day. This is super great if you can find a group who send out an email of where to share. You submit your share day, stating what you want to share, people pin their posts to your wall and you share them. Interesting stuff for your readers, people like you, you make friends. All good.
7. Don't just share your articles. Share photos, videos and thoughts that your audience will like. And questions are great, you just have to work out how to get people to respond. Ask them about themselves.
8. Share to big companies. If you mention a big company, post it on their page. They may ignore you or 4 months later they may ask you to come and make a video. (My first paid blogging experience!)
9. Keep a track on your analytics. If you're not getting traffic from Facebook, try a different strategy.
10. Track specific links. So, you've shared to 10 people, but which ones are actually drawing traffic.?
Here's a secret …(having a coder for a husband has it's rare benefits, normally I just get a withered look which says "how can you be so stupid that you STILL don't know how to do this?"). Add this bit of code behind your page that you link…?r=1 and then it will show up on your google analytic as a specific page rather than the Facebook soup. So, I want to share my fantastic blog post about child development at 15 months…I paste my url: http://snotty-noses.com/blog/2014/04/13/what-normally-development-15-months/ and then add the secret bit of code… http://snotty-noses.com/blog/2014/04/13/what-normally-development-15-months/?r=1 You can keep increasing the number for different links. It will then show up in your analytics as a different landing page. (Don't use a short url or it reverts back to the normal one.)
11. Make sure you have a Facebook friendly photo, or share a photo with a link rather than the link. If you share the link, Facebook will pick up your photos and put it in the feed. Although normally it's the middle bit and cuts off the top and bottom. You can make sure you have a Facebook friendly photo (this is means sharing is quick, but it is supposed to draw less traffic.) Or share the photo instead and put the link in the comment section (this means that if they click the photo it doesn't link to your page, but it looks a lot better.)
12. Hashtags. I'm not great at these, but if you prefix your post with for example #ontheblog, it automatically shows up on a hashtag page. I'm sure there are a heap of others.
Right, now I've told you all how to do it, I'd better get on with myself!