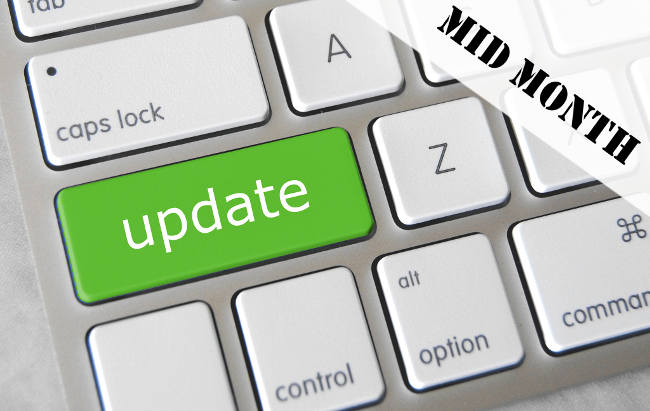 Hi all!
Sorry we haven't written much lately.  It has been a busy month!  Darren hasn't been working much in his 'real' business so has been devoting a lot of time to our websites.  Along with updating the design on this site, we made changes on one of our other niche sites that we talked about in the do you know what your visitors want to see article.
So far the changes that we made on that niche site have been performing pretty well, though it is always hard to say in a short timeframe like a few weeks.
Darren has also started using Digitalocean and Serverpilot a little by setting up one of our niche sites that makes no money on there as a test.  He figures that using a site that makes no money is safer than risking one that does make money since this is all pretty new to him.  This stuff is really really confusing – he keeps talking to me about it, how it works and stuff and my eyes just glaze over.  He is such a nerd.  But he's an excited nerd so it's all good.  I put links to the sites in here but honestly unless you are VERY technical in nature, don't bother.  Just stick with a good webhost like Bluehost.
On another front – I started making enquiries to some companies with products similar to one we promote on one of our niche sites with the thought of trying to find a better affiliate commission rate.  I didn't expect much interest but within a day I was called back by one of these companies and to make a long story short, they are going to design a new landing page just for us and we are going to move that site's traffic over to them in the next couple of weeks.  Our commission for the new product is about 50% more than the current product we promote.  If all goes well, we will be past our 2016 goal of $2000/month by February or March and working towards our 2017 goal of $4000/month.
On a similar topic, sales so far this month (January 19, 2016): $1231.79 . We have already beaten last month as well as last January.  Yay! But to be fair, December always kind of sucks because of the holidays it is really only a 3 week month at best.  And last January we'd only been at it for a few months.  Still, if this trend continues for the rest of the month, we could hit our $2000 goal already.  Even if we don't meet the 2016 goal this month at the very least we should have a record month.
There, I've gone and jinxed it now.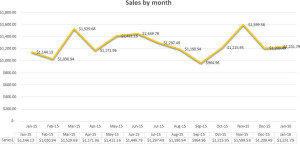 Darren and I went out for dinner the other night and we were talking about this site and how we feel we've already kind of neglected it.  We had dreams right off the start of posting 2-3 articles per week.  We still have those goals but part of having this site is working to make an online income and then try to show you how we have done it.  So in order to do that, we need to balance our time on this site as well as on the sites that really generate income.  You're not likely to be interested in our advice on building an online income if we don't make any money, right??  🙂
So what I'm saying is that this site is already helping us by wanting to make better choices so that we can prove to you that it is a possibility for anyone to make a living off their blog or most any online business.  We've had a few offers already for sponsored posts and we considered it just to get more new content but after reading some of them it became clear that we have to be really picky.  Most of the posts we have gotten so far were just thinly masked sales pages for some product or service somewhat remotely related to our site.  We have no interest in cluttering the site up with stuff like that that none of you want to read.
That's it for now.  We have a couple of articles in the works that just need a bit more polishing.  Hopefully we'll have at least one more out by the end of the week.  Until then, be safe out there and keep working hard to achieve your goals!