It's that time when we take a look at our Alexa Ranking to see if we have made any improvement over last month.  On June 12th, I wrote about the Alexa Ranking system and why it was important to bloggers.  I recommended installing the Alexa Toolbar and see if this would improve Alexa Ranking.  It's time to look at the results.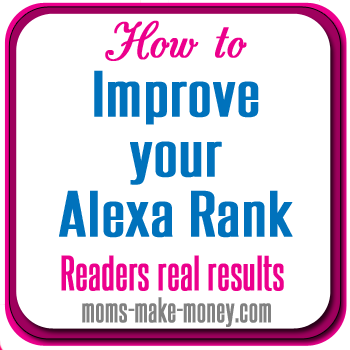 According to the post on 12th June, the Alexa Rank for Moms Make Money at that time was 189,490.  I've been tracking this pretty closely since, and if you have been following the MMM Facebook Page, then you might have noticed when I posted a Milestone on the timeline.  During the last month, the 3-month average for MMM went below 150,000 for the first time!  All thanks to you, the readers and subscribers here that all participate in the success of the site with your comments and shares.
But the rolling 3-month average figure isn't the only thing you can track on Alexa.  They also keep a score for the last 1 month too.  So looking at this 1 month figure we can really see how the ranking has changed over the last month compared to earlier times and see if installing the toolbar has made any difference.
As of today – here are the updated results for Moms Make Money.
| | | |
| --- | --- | --- |
| 12 June 3-month | 12 July 3-month | Last 1-month |
| 189,400 | 137,808 | 117,116 |
That's a pretty nice improvement in ranking.
You can find your results by adding your URL to Alexa.com and looking for this box.  The 1 month and 3 month scores are on the right hand side.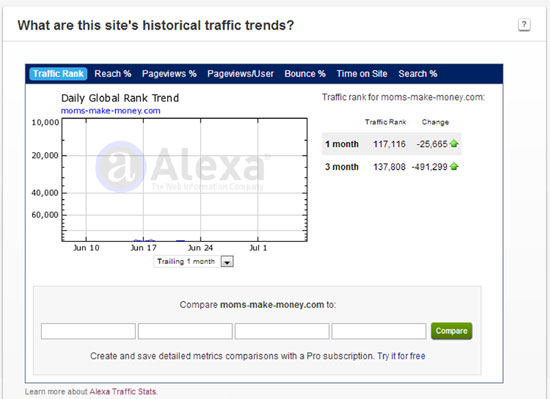 If you linked up and left your score in the comments back in June, do drop back to give us an update.  Did you install the toolbar?  Has your 3 month and 1 month rank improved?  What's the new score for 3 month and 1 month?  And I'll enter the results in the table here as they come in.

Thanks everyone for taking part in this experiment.
| | | | |
| --- | --- | --- | --- |
| Site | 12 June 3-month | 12 July 3-month | Last 1-month |
| Moms Make Money | 189,400 | 137,808 | 117,116 |
| Ali's Pet Kitchen | Not ranked | 18,766,246 | |
| Domesticated Breakdown | 11,053,668 | 1,378,361 | |
| Cheng and 3 kids | 3,240,318 |  1,807,027 | |
| Marg's World | 221,173 |  178,509 | |
| Fluster Buster | 395,029 |  315,410 |  251,195 |
| Serger Pepper | 987,269 | 829,938 | |
| Little Vintage Cottage | 21,813,914 | 3,869,034 | |
| Gina's Craft Corner | 2,846,144 | 356,124 | |
Authored by: Deby at Moms Make Money