This post on blog essential elements and design is taken from Newsletter 4.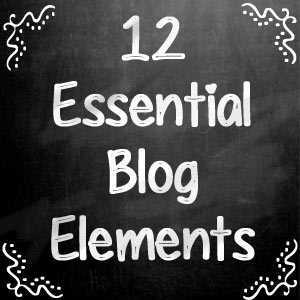 The emphasis at Moms Make Money, is very much that.  Making money from your blogging.  But before we try to do this, we need to make sure our blog has everything it needs to draw in readers, and keep them there browsing the site.  So today let's think about blog design and the essential elements that must be present.
Now before we begin – I admit that design and graphics is NOT a strength for me.  My sewing blog is pretty plain right now and I would love to make it more colorful.  With this in mind I found a site – Design Seed – which is FULL of color scheme inspiration.  If you have a couple of minutes, do drop over and drool over the beautiful photos and the palette of colors you can use on your own site to get the same feel.  It truly is beautiful   I hope to use a brighter color scheme and might get to work on this soon.
Now to the subject of the essential elements that you should have on your blog or website.
Sign up box – you may have heard the phrase 'The money is in the list'.  You MUST have a website sign up box where you can collect the email addresses of people interested in what you have to say.  If you don't have this already, I will cover how to set up a mailing list and add a subscribe box in a later newsletter issue. (See the Newsletters 7 and 8.)
Social Media Buttons – a cute row of buttons to ask your readers to follow you on Pinterest, like your Facebook page etc.  Not sure how to do this and where to get them from?  Follow through this easy tutorial at Add Cute Social Media Buttons to your Site.
A header image or logo – so that visitors get an immediate idea of what your site has to offer.  You only have a few seconds to make a first impression, so make your header count.  Although good design alone will not keep someone on your site — an eye-catching design will, at the very least, grab their attention long enough to take a look around.  Tutorial on how to design your own is coming up in a later issue.  (See Newsletter 6.)
About page – this can be one of the most visited pages on your site.  Readers will want to know more about you, and it is often better to place personal info here than fill your blog with too much personal posting, which won't necessarily contribute to its content or earn you money.
Call to Action – what do you want a visitor to do?  Maybe its sign up for your mailing list, download your e-book, read a post on a subject important to you.  Make sure your Call to Action is eye-catching and directs the reader where you want them to click on your site.  Best to limit yourself to one or two calls to action.
Latest posts or blog – showcase your recent content.  If you don't update often, consider leaving off the dates on your posts.  There is nothing more off-putting than visiting a blog to see that the last post was 6 weeks ago – in internet terms, this looks like an abandoned house!
Menu bar or navigation.  Place these under your header, and use them to direct your readers where to go and showcase your best pages or content.
"Content is King" — you might have a pretty web site which will catch someone's eye, but if the content is no good, you can be willing to bet that they aren't going to stick around or visit more than once.
Contact information.  Maybe on your about page, or a separate Contact Me page.  Make this easy to find – you never know when an opportunity might have been coming your way from a fellow blogger or even a potential advertiser – but it they can't easily find how to contact you, they will quickly move on.
Search box.  Maybe someone Pinned on of your projects but instead of linking to the post, they linked to the front page of your site.  Now a visitor quickly wants to find that project they are interested in – provide a search box to make navigation easy or they will soon be off somewhere else.
ALT tags on your images.  If you have great images on your site then make the most of them.  Improve your search engine optimization by using Alt tags on your images for your keywords  and these can also be found on Google Images to also draw in more visitors to your site.
Statistics and tracking.  You want to know where your visitors come from and what pages they visit. What keywords are being used to find your site? (See Newsletter 5.)
Check out your site now and make a list of things you feel need improvement or have to be added.  Small changes make a big difference.
Are there any other blog elements you feel are essential for success?
Authored by: Deby at Moms Make Money