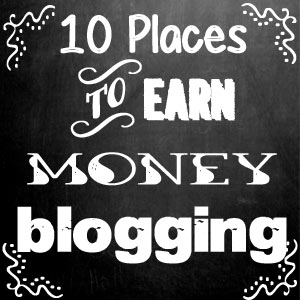 If you want to earn money from your blog you are in the right place here at Moms Make Money.  Here is a summary of some of the schemes we've looked at to date, and a few new ones I will cover in more detail later on.  Whether you are a new blogger or a huge long-established blogger, anyone and everyone can use one or more of these schemes to earn a little extra.
Earning money from your blog basically falls into just a few basic categories, and below I list my favorite sites and networks.  It's by no means an exhaustive list, there are a lot more suppliers and ways to earn out there, but I've done all the research and hard work for you to come up with this shortlist of my top recommendations.
Blog Advertising
Advertising on your blog that is not related directly to making sales, such as display advertising.
*  Direct advertising.  You can sell advertising space directly on your blog.  You will generally see this in a sidebar, sometimes under a 'sponsors' section, with a display of small buttons or banners advertising off-site products, websites and services.  The more visitors you have, the more your sponsors will pay
If you have more than a couple of adverts, it can be quite a chore to make sure they are all paid for, in the right place at the right time, and renewed, replaced or removed on the appropriate dates.  There is a great service called Passionfruit Ads which automates all of this for you and makes selling direct advertising space a breeze.  They take a $1 fee from each advert.
You can pop over to my sewing site to see an example of my advertising page.  More to come on Passionfruit at a later date.
*  Advertising networks.  You can choose to display individual adverts from networks such as Escalate.  You will have a choice of vendors and ways to be paid such as paid per click on the advert, paid per conversion such as a website sign up, or paid a fee per sale.  These tend to be temporary in nature and you can change them according to seasonal offers or the subject of your latest posts. This is the easiest way to start up with blog advertising and if you are new, I recommend signing up with Escalate as your first network.
Featured in Newsletters 9 and 11.
An alternative to Escalate is Integrate. More choice of campaigns, but more difficult to work with and some of the adverts are likely to appeal more to businesses than blog readers.  If you've been using Escalate for a while, do also give Integrate a try and see how you like it. Depending on your niche and readers, this may give you a good fit.
*  Pay Per Click/View Advertising.  The biggest supplier of Pay Per Click advertising and the one you will see most often is Google Adsense.  It's easy to set up, and once established you don't have to do anything to update the adverts unless you want to change the placement on your site. However Adsense and others like it such as Rivit depend on a certain amount of traffic to really earn you any money and small bloggers will struggle to meet the payment threshold.
Adsense is also a fickle partner and can decide to shut you down and keep your earnings for reasons known only to them – read more in a Google Horror Story.
Or try Infolinks. A discreet set up and forget system to add little underlines to your keywords and turn them into clickable adverts.  Full customization,  turn them on or off for particular posts and pages, change how they look and how many there are.  Set up once and enjoy income every day.  Read more in my post Earn Money with Infolinks.
You can also use the WordPress plugin nRelate to not only show your related content below your posts, but also include an advert.  Earnings are small but every little adds up.  Once the plugin is installed, set up advertising within the options. If you don't yet have a related posts widget to keep your readers engaged longer – get nRelate now even if you don't want to use it for advertising!  Read my Tiny Tip about using nRelate to get more page views.
 Affiliate Marketing
Displaying adverts or recommending products or services in return for a direct commission in the event of a sale.  Sales commission usually applies to all and any products from that vendor, not just the one being recommended.
*  Share A Sale – featured heavily in my newsletters series and for good reason.  ShareASale is my biggest earner.  Nearly 4000 vendors to chose from with products in all categories.  Commissions range typically from 5-80% of sales with tracking cookies up to 6 months and sometimes longer.  A post or recommendation now can still be earning you money in a year from now.  Easy to work with, huge range of vendors, good commission and reporting – my top recommendation for Affiliate Marketing.  See Newsletters  12, 13 and 14.
List of my recommended vendors within the ShareASale network from an earlier post.
*  Amazon – a great affiliate program with the biggest household name.  You can include sidebar banners, in post widgets that showcase particular products or text links to pages or products.  However, the Amazon affiliate program is not as generous as it used to be and now only includes a 24hr tracking cookie.  That means you only get the commission if a buyer clicks on your link and completes the purchase within 24hrs.  Low rates of commission – starting at 4% but the potential for good earnings if your site is in the right niche and you are able to make high value product recommendations and get resulting sales.  Buyers trust Amazon so you can market high-ticket items with confidence.
Get paid to…
Get paid to – Pin, Tweet, Review or write.  Usually known as Sponsored Posts, Pins, Tweets etc
*  Sponsored Pins – you can get paid to Pin using Viraliti.  Read about this new scheme in a previous post about earning money from Pinterest.  These are a new player to the market and are starting out small, but the potential is there to earn and grow a team.
*  Sponsored Tweets – get paid to Tweet links to your followers.  To sign up they have some basic requirements.  If your Twitter account is more than 60 days old, you have 50 followers and at least 100 status updates, you can earn money from sponsored tweets.  Obviously the more Twitter followers you have and the more active your followers, the more clicks on your Tweets and the more money you can earn from this.
*  Sponsored posts – with Social Spark.  The biggest and best known network for Sponsored posts and reviews.  I've only recently signed up for this one and haven't received any offers to write a post just yet so I can't make any personal recommendation. I'd be interested to hear your thoughts and experiences with Social Spark.
But my personal favorite is Sverve – I've written about them separately before and highly recommend joining.  It's a great opportunity to find paid work/reviews etc that you won't see anywhere else, but it's also an awesome blogging community where you can endorse other bloggers, share content and more.  Do go and check them out right away.
I also suggest taking a look at Sponsored Reviews.  They have a long list of mostly smaller advertisers looking for articles or reviews with links, most of which are short and simple assignments and can earn you from $5-$500. Pick your price and place a bid.
* * * * *
These are my current Top Recommendations for ways to earn money from your blog.  Where else do you recommend?  Where have you had your greatest earnings and success?
If you would like to write an article for Moms Make Money about a scheme you are using, not mentioned above, you can email me from the contact page above.
Authored by: Deby at Moms Make Money