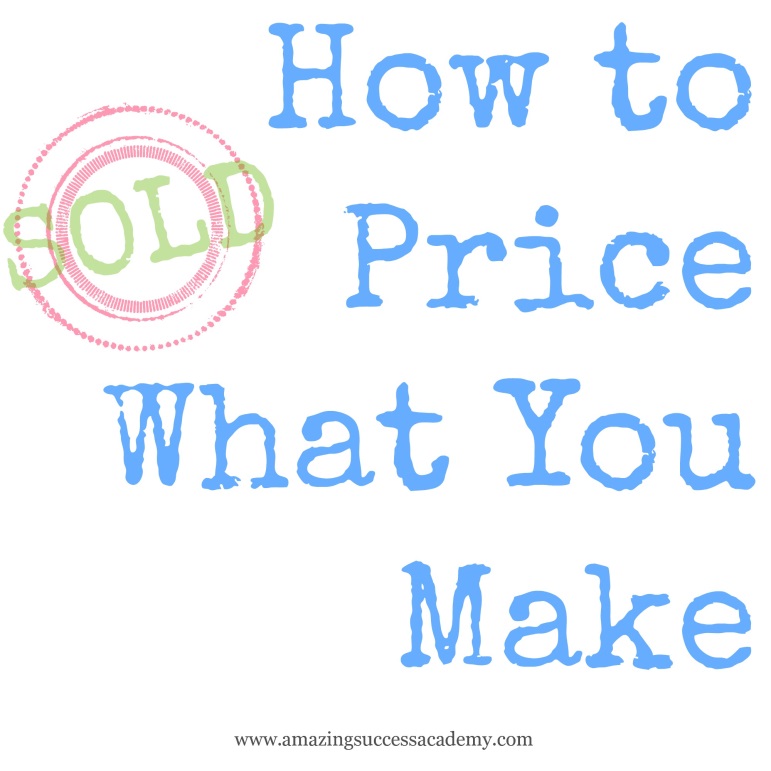 As an artist you have the fortunate opportunity to learn how to price what you make. Some claim this is pure science and if you just add up the numbers, viola! You'll have a price that will sell. Other's claim that it's all in your gut and you should sell what you make based on how much you think its worth.
In the time I've spent working with artist's in my community, The Amazing Success Academy, I can tell you that it is more about what is happening out there in the market combined with some simple math. Below I'm going to talk about four areas that are vital to pricing what you make and pricing it successfully!
What to Consider
When you are pricing what you make that are several factors that must be considered before you even start calculating numbers. It's important that you consider the manufacturing time associated with any product. If it is something that is highly time intensive, you should weigh this against similar products on the market (more in the next section). Other factors to consider before you put too much work into a product are the materials costs and marketability. If your product requires a material that is extremely rare, this can work for you or against you – it all depends on your ability to market the product. Thinking about these three things: manufacturing time, materials costs and marketability before you create an entire product line. If all the pieces don't fall into place, move on. You don't want to waste your time on a product that is too expensive to produce or in unmarketable.
Market Research
The words market research are a bit intimidating I realize – and for many artist's it seems like an unnecessary step. However, as an artist myself, I can assure you that market research is incredibly helpful and effective at showing you what is out there, how much it is, and if your product is marketable. When you are conducting market research, you need to compare and review several bits of information:
Collect information from several sellers
Review sellers average sales per month
Compare the average price of products similar to yours
Consider how many products out there are similar to yours
Examine the range of prices
Consider where your product's price would fall in the range of other similar products.
Recruit Testers
Nothing will test your product's durability; createability, and marketability than testers. I am a big fan of testers and for a good reason – they work!
When you are considering a new product or trying to price a product that hasn't sold well, one of the best ways to find out how people like it is to ask people to test it out. When you do this, make sure you ask your testers to give you feedback. Feedback can be as informal as an email or short note to let you know what they thought about the product or it can be well organized and statistical if you use a survey or form. It's totally up to you. But no matter how you get information about your product you should ask your testers the following questions:
What do you like about it?
What don't you like about it?
Where can it be improved?
What colors/materials/textures/etc. do you think are best for this product?
How much would you pay for this product?
How does this product make you feel?
…and so on.
Arriving at Your Final Price
Finally, you have checked out your competition, gotten your seal of approval from your testers, your product passes the things to consider test; now what? Time to price it!
When you price your products it's important that you consider what your market can bear while also doing a little math. Here is what I suggest.
1. Find the average price of similar products in the market. Add all the product prices together and then divide by the number of products. For example if I had three products and their prices were $4.00, $9.50 and $7.25 I would calculate the average of these products like this:
4.00 + 9.50 + 7.25 = 20.75 / 3 = 6.92
$6.92 is the average market price for this example.
2. Next use the following formula to calculate your price. It should be near or close to the average price you calculated using the formula above.
Labor/Hr + Materials Cost = Wholesale Price
 Wholesale Price x 2 = Retail Price
My final thought on prices… if it isn't making you uncomfortable, then it's not high enough. Handmade is about quality not quantity – treat it respectively.