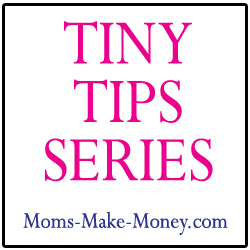 Today's Tiny Tip – increase traffic to your site using Pinterest.
Other than search engine traffic, Pinterest is my number one source of traffic for my sewing blog.  And my photos really aren't very good at all, and just show a middle-aged woman in some ill-fitting dress she just made!  Imagine what you could get out of Pinterest.
Crafty projects, how to's, tutorials, seasonal items, kids parties, and more.  All feature really well on Pinterest.  Especially if they have a stunning photo – photos with room for titles also work well so that a viewer knows more about what they will find if they click through.
If you use Pinterest to pin your own favorite inspiration from other blogs and websites, then you are missing out if you aren't featuring your own posts as well. People follow you on Pinterest because they like what you pin.  You pin what you like, and you like what you make.  So it stands to reason your follows should like it too if they share the same interests as you.
Pin your own projects in with others on a board by subject, or if you like feature your own creations in a separate board showcasing just your own work.  If people like your pin, they will re-pin, then their followers will see it, they might re-pin and so the cycle of happy continues.  Even if people don't visit today, those pins will be a permanent link through to your posts and will bring a steady stream of traffic, increasing as your reach and followers increase.
I have a board called – I made these, where all of the pictures link through to the appropriate blog post.  Not the most attractive board on my page, but I'm proud of what I do and I like to show it off.   Some kind people have re-pinned me too so now my latest fashion fails can appear on their board too.
So don't be shy – pin your own projects and posts.  Show off what you do!
Authored by: Deby at Moms Make Money