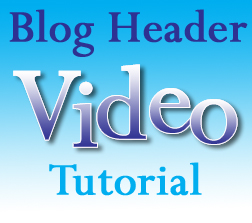 We've discussed before about creating a good first impression, and how you need to brand your website and all of its accompanying promotional and social media with a similar color palette or look.  So you would ideally create a similar banner for your website, Facebook cover, Etsy shop, Twitter avatar etc. using different sizes to suit each media.
For example, my newsletter header matches the header on my website, so that it is immediately familiar to my readers and they are more likely to open it.
I've prepared a couple of very quick videos to show you how simple it can be to make a website banner or logo using Photoshop.  The method is the same if you are using free software such as Gimp.  In this example I am making a seasonal banner for an Etsy shop with an Autumn or Fall theme.
You can always find free graphics online and scrap-booking sites are an excellent source of freebies – but if you are using it for a shop banner do make sure that it is OK to use your chosen graphics for commercial use.