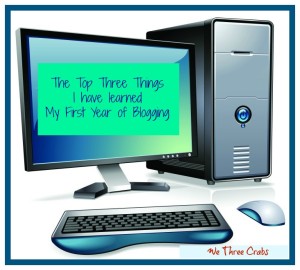 A guest post by Erica of We Three Crabs.
My blog, We Three Crabs, is turning a year old in November. It has been a year of ups and downs. I started my blog as a way to chronicle the changes that were happening in our family. We moved from the Midwest, central Indiana, to Juneau, Alaska. When I first told my family and friends about the move a lot of people were interested in learning more about what our lifestyle would be like in Alaska. So my blog was born.
I got lucky. My husband is a techie on the side and so he was able to purchase my domain name and host my site for me on a server he built a few years back. He also builds websites on the side for people. If I was not married to my technical support/web host I would totally take Debbie up on her offer to set up a site.  Although word press is not hard to learn, it does take a while to figure it out.
Once I started writing, I figured out that I could easily write about my addiction to Pinterest, life with an active, smart funny toddler and also fishing in Alaska. So my blog evolved into a "mommy blog". I have learned about key words and how to write using them. (the plug in WordPress SEO is fantastic!)
I quickly learned that quality photos are important. I'm not a photographer. I struggle with this, but figuring out the secret of using Pic Monkey to edit your photos was major! It's free, it's easy and there is an option to upgrade for a fee. At one time there was a code to get six months of the upgrade free. I took it and ran.
I learned to schedule my posts with an editorial calendar to take the pressure off myself a bit. I now schedule my posts three weeks in advance. More if I can. (I use the editorial calendar plug in)
I joined a couple of facebook groups for blogging. One is for support, questions and general help. The other has been integral in reducing my alexia score and increasing traffic to my blog. Team work groups are groups that each day has one or more participation threads. If you participate, you share, pin, tweet or whatever they require for that thread for everyone else participating. Everyone does the same for you in return! Some days I have one of my posts tweeted, pinned or shared over 50 times. It has really given my blog great exposure.
So my top three tips are:
1.       Take quality photos and use Pic Monkey to edit them.
2.       Schedule posts using an editorial calendar
3.       Join a teamwork group and a support group for blogging
I want to thank Deby from Moms Make Money for allowing me the opportunity to guest post. I am a faithful reader of her newsletter and continue to learn from her.