I like to keep my finger on the pulse with blogging news, and my pulse skipped a little beat this week when I came across something new and exciting that I think is perfect for me, and you.  iBlog magazine – full of blogging advice for women.
The iBlog affiliate program is currently offline (January 2016).  We will check periodically and remove this warning when they come back.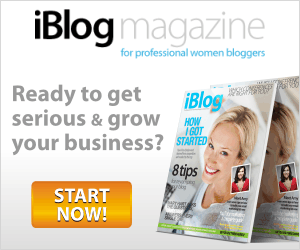 At last a magazine and supporting website for women bloggers.  I already love it and it's not even launched yet.  But it looks like they have some really big plans. Take a look at the intro video.
There are two levels of membership.  One is paid – at just $3.99 a month which includes the printed magazine, monthly training webinars, weekly social media interviews, the "Flip Side" weekly interview show, and all of the free content from the website.  Just want the free option ?  It sounds awesome.  Blog news daily show every weekday, Smart Blogging Social Show of weekly audio interviews, weekly interviews with the top bloggers, free "Live" hangouts & Facebook events, industry insider interviews.
When you take a look at the iBlog committee and advisors and see their achievements, well, you can see why I am so excited about the content coming up on this site, both as part of the free content on the site and as part of the magazine. One of them even has 1.5 million Google Plus followers!
Exclusive Membership Benefits
What you won't find anywhere besides iBlog Magazine!
iBlog Magazine (Print) – Every month, receive the industry's only print magazine specifically for professional women bloggers.
Top Blogger Interviews – Full access to bloggers like 'you' that turned their passion into a 6-figure income…and sharing how they did it!
Jumpstart Morning Show – Start your day with iBlog's Jumpstart Morning Show & let us deliver relevant stories on blogging, social media & business to you in 4 minutes or less!
Social Media Expert Interviews – Learn the latest Social Media trends, tools & tips straight from social media's best! Prepare for success with this "insider" information.
Industry Insider Interviews – Discover what brand representatives are looking for when selecting bloggers & how to maximize your relationship with them.
Watch What Happens Next! – When most cameras stop rolling we continue to capture the "real" people & ask our guests for personal insights, likes, dislikes, who they follow, what's hot & hilarious questions you won't believe!
Live Webinars – Monthly training webinars packed with actionable tips & tools for women bloggers from industry experts. You'll walk away practical tips that will immediately impact your blog AND your business.
Special Features – such as live hangouts, guest posts, resources, reviews, discount affiliate opportunities and more.
Special Offer
The full membership including the premium website content and the printed magazine will usually be $5.99 a month, but for the founder members, there is currently a special offer to sign up early for just $3.99 a month.  About the price of a good cup of coffee.  I really like the idea of the printed magazine but unfortunately its not available to post to the Cayman Islands.  What do you think?  Worth a look?  Could make the world of difference to your blogging future.
I've already signed up for the free content and I'd be certainly getting the magazine if I was in the US.  If you learn something that improves your blog or earnings then the annual subscription could pay for itself many times over.
What do you think of having a magazine offering blogging advice for women?

Authored by: Deby at Moms Make Money