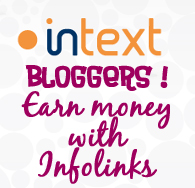 If you have been following Moms Make Money for some time, you may have signed up to Infolinks as part of their St Patricks Day offer.  Infolinks is already great, but they made it doubly so back at the end of March and early April this year, by offering double payments for the first 60 days, to new sign ups referred by existing members.
You can remind yourself all about this in the earlier post – Earn money with Infolinks – double money offer.
I know from the comments, and from visiting your sites and seeing your Infolinks in place, that many of you signed up, but today I got a message from one new Infolinks user who says that she did NOT get her double earnings bonus.  That makes me a little bit concerned and I want to check that everyone received the bonus that they were entitled too.
Please, if you signed up with Infolinks, go and check your account.  Click on Account in the top menu and look at the earnings and payment history.  Do you have a St Patricks Day bonus showing?  Does this double your first 60 days earnings?
I'd love to get some feedback on the success rate of this offer.  It concerns me as a blogger if I recommend an offer and then the company promoting it appears not to pay out for any reason.  That makes me look bad.  If you haven't had your bonus, I want to take up your case and speak to my account manager on your behalf.
So please – check your Infolinks account now.  And let me know…
When you signed up, did you send the email to Infolinks claiming the St Patrick's Day offer?
What was the date of your email, if you still have it.
Did you set up your Infolinks by 12th April?
Is Infolinks still running on your site?
What is the site name?
Did you get your bonus?
You may either leave the details in the comments below, or if you wish to remain incognito, drop me a message by email to [email protected].  I would like to hear from you even if you got your bonus please, and especially if you did not.
Thank you for helping me out.