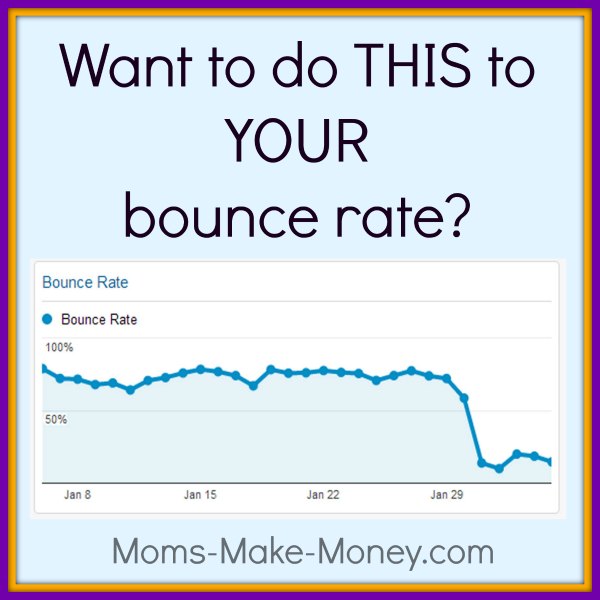 If you follow your Google Analytics carefully (and you should), you will probably be horrified and dismayed by your site bounce rate.  On the average blog, a bounce rate of 60-75% isn't uncommon.  That on the surface appears to be terrible.  I remember thinking that there must be something seriously wrong with my site if 70% of people arriving went on to leave 'instantly' without reading anything or engaging in any way.
Or at least that's what Analytics was telling me.  And the average time spent on site was a mere 2:30 to 3:30 minutes per person.  So if 70% of people were leaving immediately and of the rest of them, the average time spent was only around 3 minutes, I was wondering what was so bad about my site and it's content that readers really were clicking away in their droves!
It didn't seem right somehow, compared to the comments, emails and number of video views I was getting.  So I did a bit more research into how Analytics works and how Google calculates our bounce rate.  What I found was very interesting and I think you'll be so relieved when you realise how these figures aren't what they seem.
How Google Measures Bounce Rate and Time on Site
Google measures your time spent on site as the length of time between arrival and their last page view.  Here is where the flaw becomes obvious.
Scenario 1.  A reader arrives from a search engine, lands exactly on the article they are looking for and reads the post carefully for 15 minutes. Then they leave, satisfied and happy to have their question answered.
Google interprets this as – you guessed it – a bounce.  Time spent on site is ZERO – no minutes and no seconds.  Because the time between their arrival and their last page view was no time at all.  They only read the one page.  GOOGLE FAIL.
Scenario 2.  A reader arrives and finds what they are looking for, reads your article for 2 minutes and then follows a link within that article to another post on a similar topic and spends 10 minutes on that page, then leaves.
Google interprets this as time spent on site = 2 minutes.  Just the time from arrival to the last page load.  They don't count the 10 minutes the reader was on the second page at all.  In this case the reader isn't recorded as a bounce, but the time spent on site is seriously under-calculated.  Another GOOGLE FAIL.
Why is it so important?
In Google's own words:
"Bounce rate" in Google Analytics is one of the key metrics that helps to evaluate the quality of your traffic. "Bounce" happens when the visitor exited the website right from the landing page, without going to any other page. This is a great indication on how relevant the content was for the user and how engaged they were with your website.
So your bounce rate helps Google to 'evaluate the quality of your traffic'.  Basically it tells them how engaged a reader was with your site, how much they liked it.  This is important if Google sends you search engine traffic.  Their algorithm checks to see how many times your site was displayed in results for a search term, how many times it was clicked and then also checks how long the visitor stayed on your site and their engagement.  These checks help to determine if your site provided the answer the search was looking for – were you relevant for that search?
If their tracking shows that you had a high bounce rate or low average time spent on that page by search engine visitors, they may determine that your page was not very relevant to that search term and may drop your page down the rankings, favoring pages with lower bounce rates. Yikes!
What Google has to say about the problem
Google Analytics even has its own page about how you can send more accurate information to them to show when a visitor is still on your site.   Take a look at their page –
Tracking Adjusted Bounce Rate In Google Analytics
Google recognises that the model they use doesn't suit all websites or provide blog owners with the full and accurate picture.  They admit that any visitor, no matter how long they stay, will be considered a bounce and the time recorded as 0:00 if they only visit one page.  With blogs being set up so that each of our posts or articles is a single page, and each article is often an in-depth article in its own right, sometimes a reader immediately finds what they are looking for on our site and doesn't need to go anywhere else.  They might spend 10 minutes thoroughly reading our article, but so far as the standard time on site and bounce rate metrics are concerned  – they are a bounce.
How to get a more accurate picture
There is a fix and it's pretty easy to do.  [BUT, please, if you aren't sure about this, don't know what you are doing, don't take a regular back up of your site, etc  – please don't go behind the scenes of your site and use the editor to change any of your theme or site files.  Doing the wrong thing can 'break' your site. Don't come back crying – I warned you!]
You can add a 'script' to your footer.php in editor, just before the closing body tag.  Copy and paste –>
<script type="text/javascript">
(function (tos) {
window.setInterval(function () {
tos = (function (t) {
return t[0] == 50 ? (parseInt(t[1]) + 1) + ':00' : (t[1] || '0') + ':' + (parseInt(t[0]) + 10);
})(tos.split(':').reverse());
window.pageTracker ? pageTracker._trackEvent('Time', 'Log', tos) : _gaq.push(['_trackEvent', 'Time', 'Log', tos]);
}, 10000);
})('00');
</script>
 This will now 'ping' Google every 10 seconds to let them know that the visitor is still on your site, still reading your content and they won't be regarded as an immediate bounce.  Their real time on site will be recorded instead.
How will this change your numbers ?
I implemented the code one afternoon here on Moms Make Money and saw the bounce rate start to drop immediately and the time spent on site start to rise.  It was working!  After a few days, you can see the very dramatic results and the change in my numbers.  It now gives me a much more accurate picture of how long readers spend on site.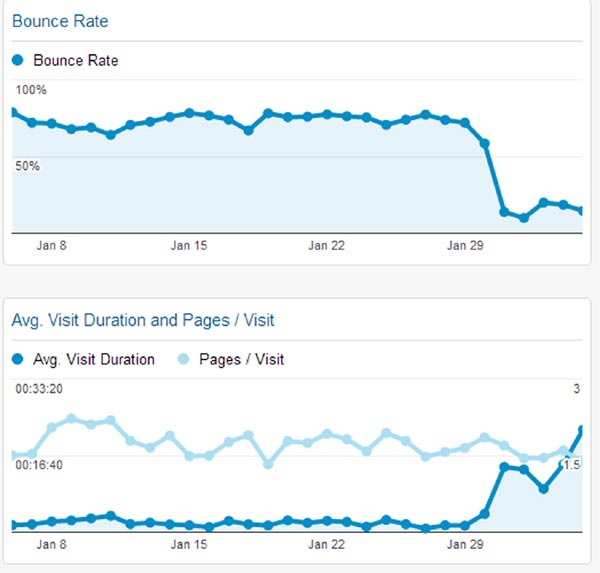 Of course there hasn't been any change in reader behaviour, but at least now Google and I get a much more accurate picture.  Previously at Moms Make Money, it appeared that around 75% of my readers were bouncing – leaving immediately they arrived, and the average time spent on site was around 3 minutes.  Now I get to see a much more accurate picture that my bounce rate is actually just around 15% and the average time spent (well, it varies) can be as much as 22 minutes per visit!
| | | |
| --- | --- | --- |
| | Before | After |
| Bounce rate | Around 75% (scary) | Around 15% (better) |
| Time spent on site | Averaging 2.5 to 3.5 minutes | About 22 minutes currently (varies daily) |
This is what my visitor engagement looked like in January before the change.  Shows most of my visitors as being there less than 10 seconds and bouncing (not true!).


And this is what it looks like today with the more accurate information.  Shows that those readers spend a lot longer on site.

The biggest bar there shows that the highest number of visits come from readers who spend more than 30 minutes on the site.  Thank goodness!  I thought I was scaring people off, but it turns out that's not true at all and my visitor engagement is much higher than I thought.
Interesting? What do you think?
Author: Deby