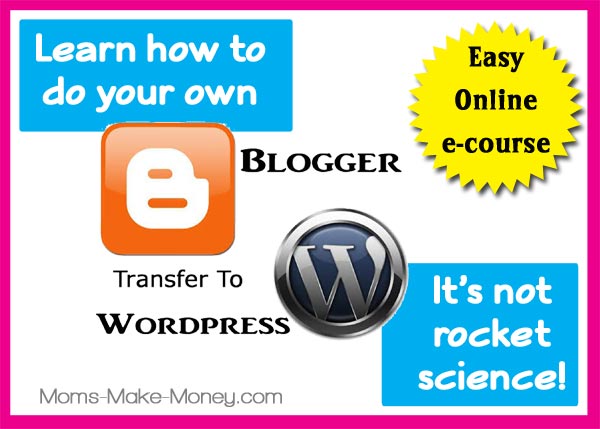 By popular demand, and because so many people out there want to move their site from Blogger to WordPress, I've created my very first e-course.  I think you're gonna love it!  The course teaches you step by step and in real time using a real life example, how to do your own Blogger to WordPress transfer for your own site.
The course includes short and easy to follow lessons including background text, PDF downloads and video tutorials.  In the course I work through transferring a Blogger site over to WordPress from the very start to the end, all in real time so you can see exactly what I do and you can follow and do the same.  Here's more about the course…and TWO very special deals for Moms Make Money readers!
 The DIY Blogger to WordPress Transfer E-Course
Want to take your blogging to the next level and earn more money from your blog?
Worried about not having ownership of your site and its content?
Want to make the move to WordPress but don't know where to start?
This course is the answer.
If your current domain is a .blogspot and you want to change to a self-hosted WordPress site on your own custom domain, this course is for you.
The course shows you:
How to buy your domain name and hosting account and get yourself set up on the web (50% off hosting voucher included)
How to set up and customise your own WordPress site
How to add plugins and extra functions and keep your site safe
How to move over your content, posts, pages, comments and widgets from Blogger
The best ways to ensure your readers all come with you to the new site
How to redirect search engines so they know where to find you
How to complete the redirection so old posts magically direct to the same post on the new site
How to use WordPress so you can be up and running quickly
The lessons
The 23 lessons include background, instructions and don't just tell you what to do – they tell you why you are doing it, and teach about WordPress as you go.
Each is an easy to follow step by step with real-time screen shot videos.  Watch how its done then repeat live on your own site.
Includes downloadable checklists to make sure you do things in the right order and a suite of an additional 30+ tutorial videos to get you started in using WordPress and customising your site.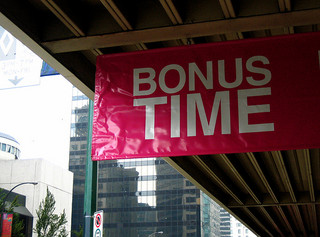 *BONUS 1* – Moms Make Money readers get the DIY Blogger to WordPress Transfer E-Course at a 50% discount!  Use code MOMSMAKEMONEY at check out for 50% off the course.
*BONUS 2* – We're all about making money from blogging here so this offer is no exception.  I have a great affiliate offer for you!  If you would like to promote this course on your own site (and I hope you will), then I will offer an exclusive discount code for your own readers AND pay you $10 for each course you sell !
You get to use this swanky graphic, your readers click and enroll, happy that you gave them a discounted price, and then you earn $10
So sign up for the course now, and transfer your own site over to WordPress, then tell all your readers how they can easily do the same and earn $10 anytime someone buys. It's a win/win!
If you want to promote this course on your site, just drop me an email with your name and site URL, and I'll send you back your exclusive discount code.