Welcome today to our guest Patti from Oh Mrs Tucker!, writing about finding your blogging voice.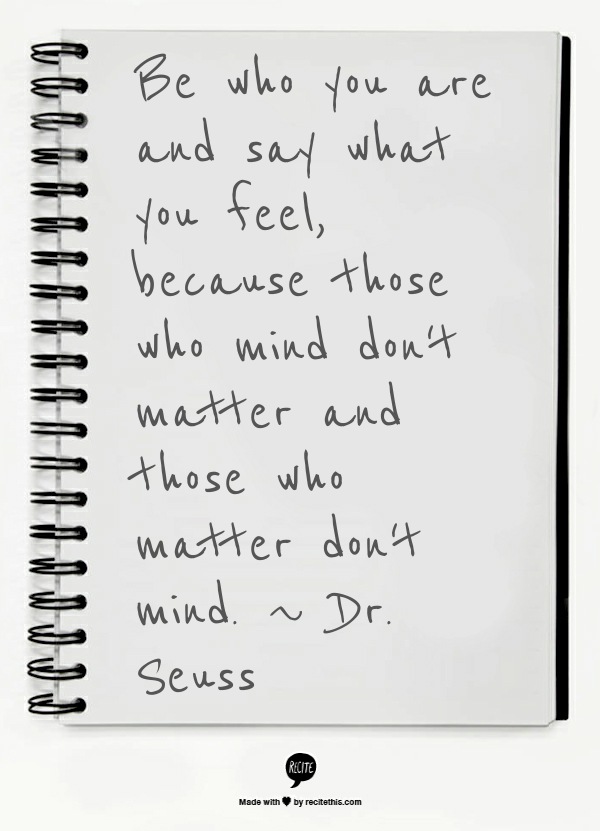 Be who you are and say what you feel, because those who mind don't matter and those who matter don't mind. ~ Dr. Seuss
As a young girl, I cut my writing teeth on Dr. Seuss and the lessons he taught me about finding my voice still holds true today.
Be who you are. To have a unique voice, especially in blogging, can be terrifying. We fear what others might think of us if we write the things that are truly in our hearts, yet may be outside the norm of what others are posting. Once it's out on the World Wide Web, there we stand, naked for the entire world to read.
Say it anyway.
Say what you feel. Resist the urge to mirror what others are already talking about, unless you have something to add. Mommy blogging is a fairly new phenomenon and there is lots of judgement in the blogosphere; we all want to be liked by our peers, don't we. The easy thing to do is to get in line, to be the same, to blend in and not stand out. It's easy, but it's not very helpful to anyone, especially you.
Consider this: Would you rather make writing decisions based on your fear of rejection, or would you rather be bold enough to make writing decisions based on your understanding and your perspective of the world around you, even if some might disagree?
I want to read the writing of the latter. That's where the good stuff, the interesting stuff, the emotion-provoking stuff resides.
Those who mind don't matter. What's the worst that can happen if someone takes umbrage to your words? Someone unsubscribes? (been there) Someone leaves a comment chastising your choice? (been there) Someone ~gasp~ disagrees and demands you change you mind/words? (omgosh, so been there)
I hope that happens to you, because the folks that don't matter will help you hone your voice, face your fears, and help you clarify your beliefs. My opinion is that you will not only survive the opposition, but your voice will grow stronger because of it.
Those who matter don't mind. These are the folks you want to speak to, those who matter. Your audience will be comprised of people from all walks of life, from every corner of the globe and those that matter will share an openness to a voice that has the courage to be who they are, that has the courage to say what they feel.
Those who matter may not always agree with you, but will respect your truth. Write for them. Find your voice for them. Offer your truth to them.
Find your voice by writing unabashedly and then letting your words sit for a period. Go back and take out the parts that don't bear your truth. Leave in the rest. Have the fearlessness that your voice matters. Believe that who you are and what you feel will resonate with another.
When you do, you will find your voice.