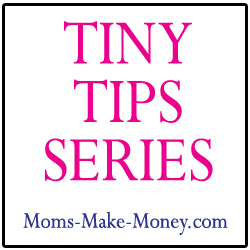 Today's Tiny Tip – make sure to use your social media to tell everyone about your latest post or project.
You've heard me say it before – you are awesome, so don't keep that a secret.  SHOUT about it.  In the last Tiny Tips I reminded you to Pin your own projects.  But don't stop there.  If you have other social media you use, then USE them.  Post your latest project to Facebook with your best photo and a teaser line to draw in readers over to your post.
Tweet about it – with a short link back to your post.  Be imaginative about how to draw in your reader with just a few words that make them curious or excited to read more.
Facebook pages certainly don't have the reach they used to.  Only a fraction of the people who liked your page will ever get to see your status update in their news feed – Facebook now want you to pay to show your update – and even then will still only show to a small fraction of those that signed up.
And no one sits in front of their Twitter feed all day reading every update, so your can easily be missed.  And Google Plus is growing – do you have your Google plus account yet?
So use all of your social media channels to promote.  The chances are that even the more avid fan won't see all of your updates so don't think you are over-saturating.
Authored by: Deby at Moms Make Money